This Week in Music History | November 28 – December 3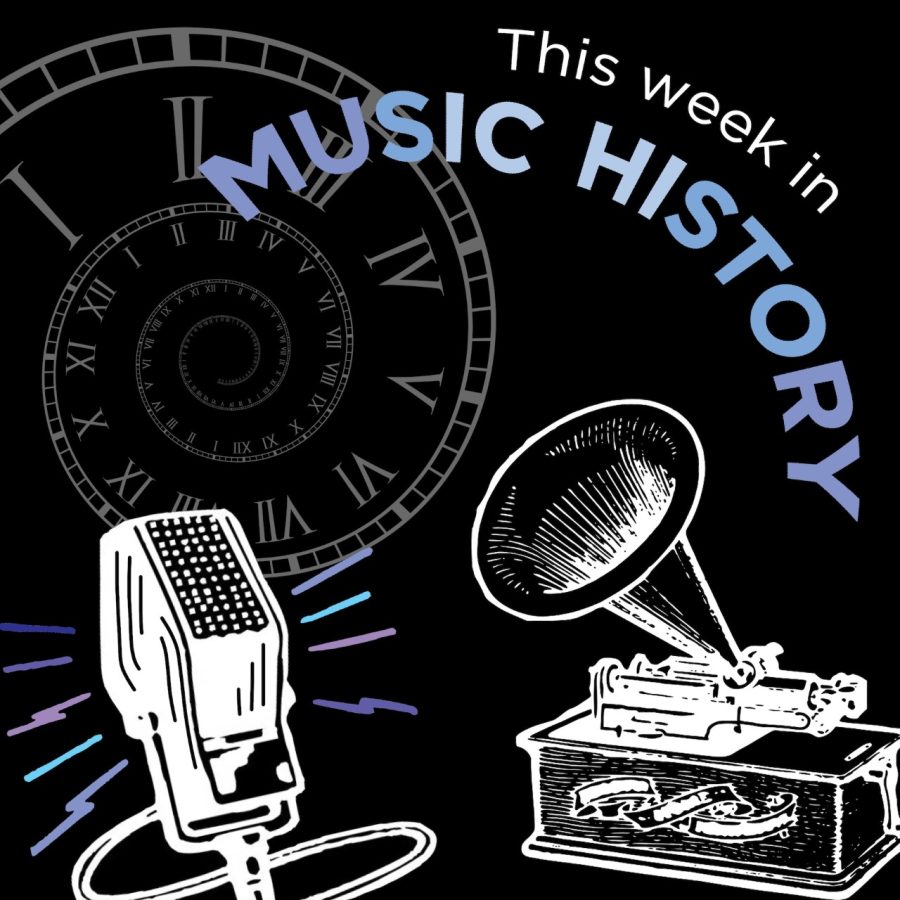 This week in music history, one of the biggest influences for an entire genre of music was born. On Nov. 28, 1929, Motown founder Berry Gordy was born in Detroit. Before music, Gordy had been a boxer, a soldier and worked at a car factory. He first found success in songwriting, according to the Motown Museum, writing hits for singers such as Jackie Wilson and Etta James. While he was a talented writer, the museum explains he had an entrepreneurial spirit and wanted to do more in the entertainment industry. He signed more and more acts as the '60s began, officially incorporating Motown Records in 1960. He converted a house in Detroit into a studio, and began producing some of the biggest stars of the era. He worked with new talent like the Jackson 5, Stevie Wonder and The Supremes, among many others. 
Motown continued making hit after hit and superstar after superstar for years. The label had created a signature R&B sound from these stellar musicians, according to the Songwriters Hall of Fame. He was inducted there in 2017, and is the only person to have received their Pioneer Award while still alive. He's also been inducted into the Michigan Rock and Roll Legends Hall of Fame, given a star on the Hollywood Walk of Fame and was honored at the Kennedy Center last year. This year, he was added to the Black Music and Entertainment Walk of Fame, which was started last year in Atlanta. He celebrates his 93rd birthday this week.
41 years ago this week in McComb, Mississippi, music history was forever changed. Britney Spears was born on Dec. 2, 1981. In the spotlight since childhood, Britney has continued to be an icon in the midst of many highs and lows. At the age of 11, she was cast on the All-New Mickey Mouse Club, a children's variety show. A few years later, in 1998, she released the single "…Baby One More Time." The song quickly became No. 1 and launched the teenage singer into superstardom. The new millennia brought hit after hit for Spears, including "Oops! I Did It Again," "I'm a Slave 4 U" and "Toxic." Spears spent years crowded by paparazzi and endless criticism, culminating in a grossly-reported-on breakdown and a conservatorship that didn't end until last year. According to the New York Times, Spears told the court the arrangement with her father had "traumatized and exploited" her. Spears still released many albums and toured during this period, despite claims she was too mentally unwell to take care of herself. In the time since she's regained her freedom, she's gotten married, released a new single with Elton John and has made numerous posts on her social media relishing her newfound freedom, including one from Nov. 13 where she says she had just been able to use her credit card on her own for the first time in 15 years. With so many events in music history under her belt, I can't wait to see what the future holds for Britney Spears.
~Madison Reinhold
On Nov. 28, 1999, Rage Against The Machine's The Battle Of Los Angeles would go No. 1 on the US album charts. With it, their place in music history was cemented. Beautifully evading genre and classification since their inception, the fusion of punk, funk, metal and rap makes Rage Against The Machine's music only definable as extreme. Extreme music has always had a political edge to it, but this band made politics the focus of their art, refusing to compromise or give any ground on their stances. Staunchness in their left-wing, revolutionary beliefs is what garnered them criticism from centrists and conservatives alike, as well as praise from punks, metalheads and rap fans.
The Battle Of Los Angeles could be easily seen as the apex of Rage's musical career. On their penultimate studio album, they crystalised the raw fury of their sound while maintaining the richness of their influences. All four of their studio albums hold a unique place in history, but this one stands alone as their most widely successful, going platinum in and hitting No. 1 in more countries than any of their albums before or since. There is a long list of people with opposing beliefs that enjoy Rage Against The Machine's music, with some people not knowing the politics of Rage and some even purposefully ignoring them. However, its success on the charts proved that no matter the extremity of their politics, their music was hopeful, their music was for the people.
"What better place than here? /
What better time than now? /
All hell can't stop us now."
~Nick Sanchez
On Nov. 29, 2001, the world lost a legend. Singer-songwriter George Harrison died of lung cancer at age 58. Born in Liverpool in 1943, Harrison gained global fame as the lead guitarist for the Beatles — arguably the most influential band of all time. At 15 years old, he joined the band, then known as the Quarrymen. The Fab Four — John Lennon, Paul McCartney, Ringo Starr and Harrison — revolutionized the rock music industry. Harrison, known as "the quiet Beatle," propelled the band to incorporate new styles into their music, including psychedelia, folk and Hindustani. Beatles songs written by Harrison include "Here Comes the Sun," "Something," "While My Guitar Gently Weeps" and "I Me Mine." 
Yet, Harrison's legacy goes beyond what he accomplished with the Beatles. His triple album All Things Must Pass proved his songwriting talent and musical genius. "My Sweet Lord" topped charts worldwide. Beyond producing music, Harrison organized the first celebrity benefit concert, Concert for Bangladesh, with friend and Indian sitar player Ravi Shankar. The event and best-selling live album captured the world's attention, raising awareness and $12 million for refugee relief in Bangladesh. The George Harrison Fund for UNICEF continues to raise money for the education and health of children in Bangladesh. 
Harrison wasn't just a Beatle. He was a musical innovator, movie producer, collaborator, lifelong Hare Krishna devotee and humanitarian. With his wife Olivia and their son Dhani by his side, Harrison's final words were, ​​"Everything else can wait, but the search for God cannot wait, and love one another."
~Gabby Nelson