Spartans dominate non-conference, but need to find stability before ranked opponents
Marin Klein, Women's Basketball Reporter
November 18, 2022
EAST LANSING – The Michigan State Women's Basketball team continued its undefeated season after shutting down Florida A&M 109-44. The Spartans have had a very impressive start to their season with lots of positives during the first five games. 14 MSU players got points on the board, including Abbey Kimball and Maddy Skorupski scoring their first collegiate points. There is still something to look for from the MSU team and a lot to be excited about. Here are three takeaways from Thursday night's matchup. 
Michigan State needs to get its head in the game earlier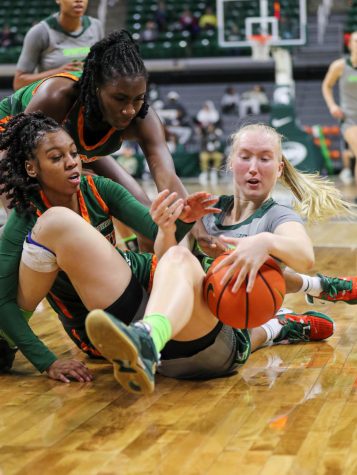 While the Spartans are boasting an undefeated record so far this season and putting up big points, they have faced the consistent theme of having a slow start. Michigan State shot  40% in the first quarter and struggled to find an offensive flow. This is not a new thing for the Spartans and has been a trend since the home opener against Delaware State. 
Head coach Suzy Merchant says that she wants to look deeper into the first-quarter issues and acknowledges that the team will face battles all season if they have struggles in the first. As MSU heads to Portland next week for the Phil Knight Invitational to play No. 7 Iowa State and No. 13 North Carolina/No. 21 Oregon, the slow starts will be something Merchant will be looking to end soon. 
McDaniel can get to the line for the Spartans
Kamaria McDaniel has been a key player for the team this season. The graduate transfer from Baylor's biggest strength has been getting to the free-throw line. She does a fantastic job at drawing fouls and provides veteran experience that the team lost when Nia Clouden left. 
McDaniel went 9-10 at the line Thursday, contributing to her total of 14 points. The whole team has done a great job drawing fouls and using them to their advantage, but McDaniel has been to the line the most, shooting 17-21 so far this season. Merchant has praised McDaniel for her ability to read the court and get the ball in the net. She will be a player to watch as the season progresses, especially as MSU goes on to tougher, Big Ten opponents. 
Turnovers continue to plague Michigan State
Old ghosts are coming back to haunt the Spartans from last season. While the Spartans have forced a significant number of turnovers this season, they still have committed a decent number of turnovers themselves. MSU can afford a few turnovers when they go on a 21-2 run in a game, but it will be something to look for further down the road. On Thursday night, the Spartans had a total of 18 turnovers. They averaged 15 per game last season and had lots of turnover trouble throughout conference play. The 27 forced turnovers are definitely a positive and not to be overlooked, but the Spartans have some work to do on their end in terms of turnovers still. There have been so many good things to see from this team so far in the season, but the inability to control the ball could result in a rocky road ahead as the Spartans inch closer and closer to conference play.