Spartans Support Feminism at Third Annual FEMfest
This year marked the third annual FEMfest at Michigan State University. The event included visual art, spoken word, live music performances, food and feminist merchandise, and was put together by Impact89FM, Women's Student Services and Women's Council. According to the three organizations, feminism is "intersectional, inclusive and expansive— not exclusionary." FEMfest is an opportunity for incoming and current Spartans to celebrate feminist expression. 
The visual artists at this year's FEMfest were Marieke Anderson, Mike Martin, Bella Lopez, Ray Snively, Mahek Kaur Khangura, Tess Peckman and Urvi Joshi. Anderson was FEMfest's first ever live visual artist. During the event, she drew mini portraits of attendees.
Martin's work was made of incredible collages that highlighted respectability politics. The collages included inspiring African American women like Janet Jackson, Chloe Bailey and Aaliyah.
Lopez's art was called Chicken Breasts. It was a drawing of a chicken with breasts symbolizing how women are treated like "animals and meat" in the workplace and are like a trophy as well.
Snively created a pink digital collage with drag queens, including Trixie Mattel, that highlighted their queer identity.
Mahek's piece was a picture of a hand with henna on it. There were different shades of brown on it to represent the incredible diversity of women.
Peckman's piece was a painting that focused on a woman daydreaming. She believes it is important that people know that women do not have a "bubble brain," rather her daydreaming has helped her create great projects.
Lastly, Joshi had three portraits on display. Their art showed how women of color are typically stereotyped and seen as one-dimensional.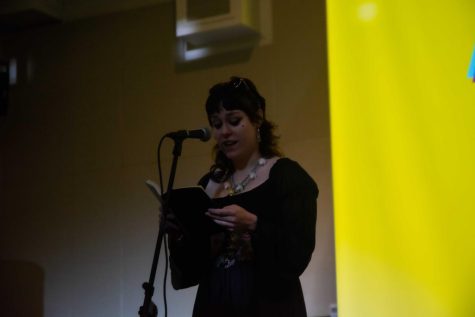 There were two poets at FEMfest, and each read their work for the audience. Skyler Van Antwerp shared a poem at last year's FEMfest and returned with a new one this year. This year's poem, "Broken Mold," is about going through abuse on both personal and societal levels. Taylor Kovach followed up with a performance of their poem titled "Bound." They wanted to share this piece so that those that are minoritized in our society, those whose stories are not told often, could hear something that resonates with them.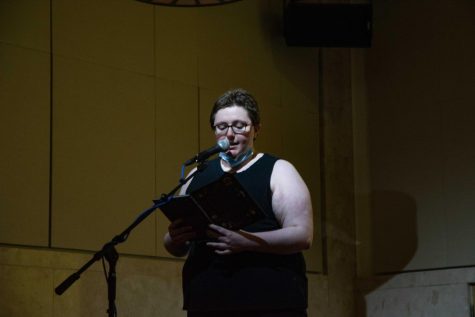 Those that sang at FEMfest include iimber, the stage name of Natalie Barnett; Deadwitxh, the stage name of Alix Mercer; Mackenzie Morales, V. Soul, Zyair Ayanna, Sophia Dove and Phoenix Miranda. 
iimber performed "waiting for that feeling again," which was on her first studio album, string theory. It's about trying to rekindle confidence in her ability to write music. During her performance, she definitely showed the audience that her confidence is back.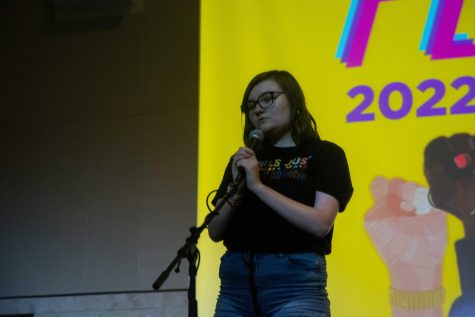 Next, Deadwitxh performed a new unreleased song called "Family Matters." It is a personal song that has to do with her family's expectations of her. She had wicked vocals and completely owned the entire stage.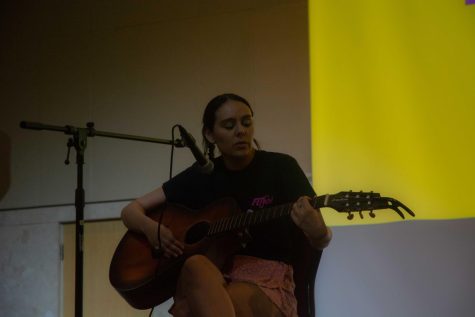 Morales is a part of Women's Student Services. Not only did she help organize FEMfest, but she performed in it as well. She played her guitar and sang a couple of songs, including one she wrote herself.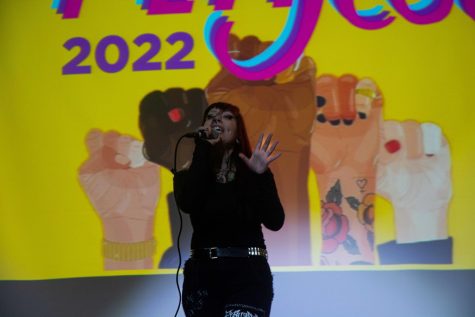 V. Soul sang original music including "Your Love Is" and "Sunken Temple." They brought the house down with their amazing vocal ability, especially on the high notes. V. Soul made sure to get the crowd's attention with their incredible energy.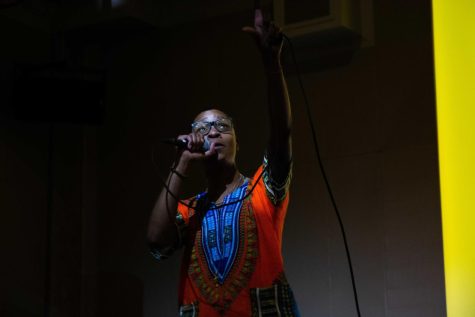 Zyair Ayanna was also a returning performer for FEMfest. Ayanna performed "Bad at Lovers" and had a visualizer playing in the background while she sang exquisitely. She said it was the first song she wrote that made her cry. Ayanna also became her own engineer for the song and is proud of it since there are very few women in the music industry involved in that aspect of production.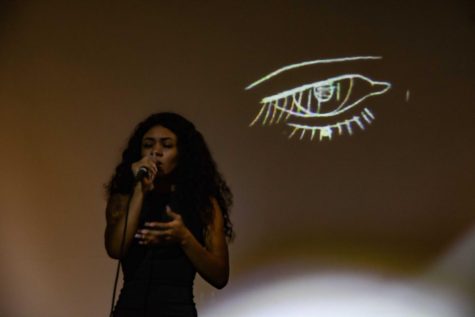 Sophia Dove was another returning performer for FEMfest. She has been a performer since the event was only featured on Zoom during the COVID-19 pandemic in 2020. Dove performed her newest release, "Them," playing her guitar to accompany her vocals. "Them" is non-binary love song, and it serves as a beautiful reminder that we need more music that is inclusive like this.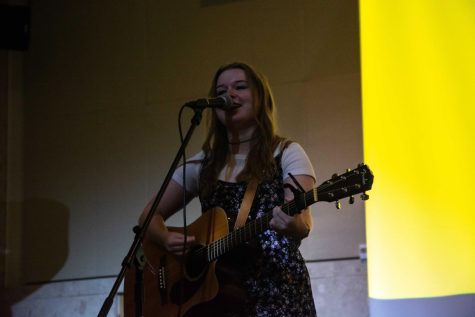 Finally, Phoenix Miranda performed "Mona Lisa" by Jazmine Sullivan and "So This Is Love" from the movie Cinderella. She had Hugh Downs playing the guitar on stage while she sang soulfully. "Mona Lisa" is about Sullivan feeling uncomfortable and exposed in her own skin, but then learning to love herself and her flaws unapologetically. "So This Is Love" is a love song talking about Prince Charming, but Miranda made it clear that she was not talking about Prince Charming— rather she was focusing on us women learning to love ourselves and growing through that process. Miranda did an outstanding job, as did the rest of the performers.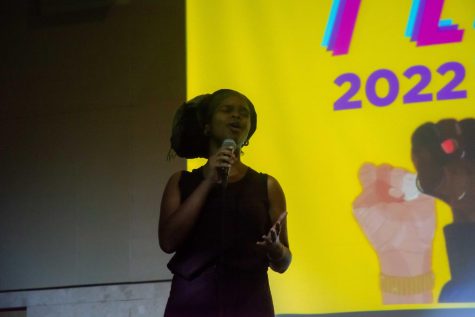 FEMfest had a great turnout and everyone enjoyed themselves. It was important to have an event like this to celebrate feminism, especially at a time like this. If you are interested in supporting feminism and its causes, please check out https://www.usa.gov/register-to-vote so you can register to vote in this upcoming election. In fact, reproductive rights will be on the ballot in Michigan this year, so again, check out the link and spread the word if you are interested.
Lastly, I want to give a big shout out to Sophie Parks and Hailey MacDonald, members of Impact89FM's Visual Media Team, for putting in the time and effort into shooting and editing the interviews that played on the projector at FEMfest. This year's event was incredible, just as next year's will be.