FINAL: MSU women's soccer puts seven goals past Central Michigan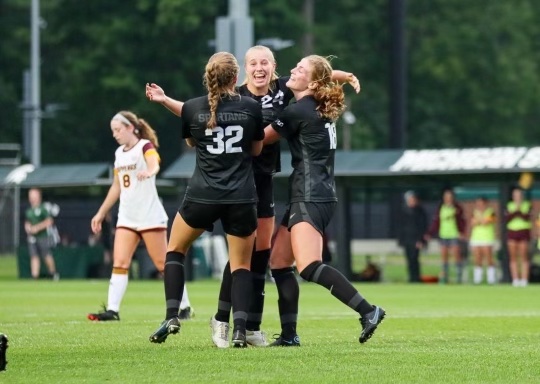 EAST LANSING- Michigan State women's soccer took care of business Thursday night, blowing out Central Michigan University 7-0 in the home opener at DeMartin Stadium. The Spartans capitalized early in the match, scoring four goals in the first half, and adding three goals in the second half, led by freshman midfielder Courtney Koehler and graduate forward Camryn Evans. 
MSU (2-1-0) recorded 14 shots on target against the Chippewas, without surrendering a single accurate attempt at the other end. Koehler finished with two goals in 54 minutes of action, along with Evans adding a goal and an assist in 47 minutes of play. 
"It was a total team performance," head coach Jeff Hosler said. "I give all credit to our players, they were super focused, they executed really well coming into the match, and they were really hungry to get out here." 
MSU showed its depth throughout the contest, having 26 players make their way onto the pitch, and six different players adding to the scoresheet. Three more goals were added by substitutes, including senior Allyson Childers, junior MJ Andrus, and sophomore Jordyn Wickes. 
A lot happened in that first half … take a look at our four-goal outburst in the opening 45!#GoGreen pic.twitter.com/5fPU6u8Ez0

— Michigan State Soccer (@MSU_wsoccer) August 26, 2022
Senior forward Lauren DeBeau was able to add on to her early season success, scoring in the 63rd minute against her old team. DeBeau's first goal of the season came against Bowling Green State University on Aug.18. 
"It was a great home opener, and I think we set a good standard," DeBeau said. "I think I was just focused on getting the win, playing together, and making sure we have that standard set, that Michigan State is not a team you mess around with." 
Koehler, a freshman from The Woodlands, Texas, led the Spartans with two goals, in an overall dominant effort. 
"It was a great opportunity to have a spot on the team," Koehler said. "Every day we come in it's really competitive, and being with all the girls, they push you every day." 
The Spartans improve to 2-0-1 on the season, while Central Michigan falls to 0-3. 
Michigan State stays at home this weekend, where they will welcome the Binghamton Bearcats into East Lansing for a 1 p.m matinee fixture at DeMartin Stadium.