Concert Review | The Sweaty Thumb Concert
Editor's note: A previous version of this article contained misinformation that has since been corrected.
There are a lot of artists going on tour this summer, including a great number of independent artists. Among these artists are David Michael Frank, Halocene, Lauren Babic and Just Joe, who are all phenomenal singers. On each of their YouTube channels, these artists have posted many videos displaying their wickedly talented voices. 
The group decided to stop by Michigan and perform at The Crofoot Ballroom in Pontiac. Waves of people poured into the venue, filling it up. It was a full house. 
The first artist that performed was Just Joe. You may know him as the lead singer of Brand New Sin, who created WWE wrestler Big Show's theme song, "Crank It Up." He played the piano beautifully that night. He played songs like "So Insecure" by Linkin Park, "Mr. Brightside" by The Killers, "My Hero" by Foo Fighters and "Bohemian Rhapsody" by Queen. The crowd sang along loudly with Just Joe. He was getting the crowd pumped.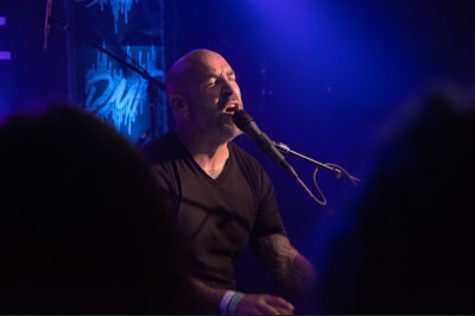 "I'm usually the warmup for these guys, but I think we all are already warmed up," Joe joked with the crowd. It was fairly hot at the venue, but Joe reminded the audience of how cool it is to be able to play a show again: "Unfortunately, the last two years were weird. We were unable to do this. We were not able to come together. But I formed a relationship with Halocene and now we're here," he said. 
The audience cheered after that statement. What Joe said was true. It was nice to be able to come together and enjoy some music after such a strange time. He also had another good point to make before singing "My Hero." "I didn't get to see Tom Petty when I had the chance to. If you have the chance to see someone you like, don't think twice. Buy that ticket. This one's for Taylor," said Joe. Again, he was right. Life is too short. Take the opportunities that come your way. 
Next up was Halocene. The band was incredibly talented, especially their lead singer Addie Amick, who could sing incredibly high notes. They played "Killing in the Name" by Rage Against the Machine, "Falling in Reverse" by Party Monster and original music too.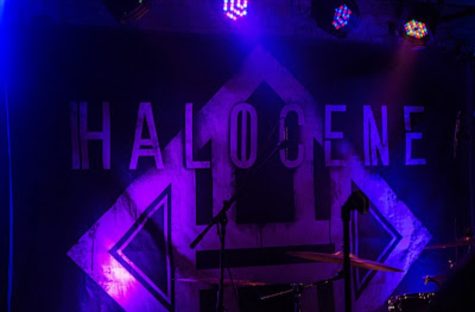 Introducing one of their original songs, "Repent," Amick said that she wrote this song for her mother, who experienced abuse in her childhood. The song is a touching gesture of love, and she did an amazing job. 
Soon after, she let the audience know that a special guest would be joining her on stage: Lauren Babic. They did their own rendition of Britney Spears' "Toxic." It was a killer performance in which Babic sang deep and powerfully. Both ladies rocked that stage. 
"Are you ready to get heavier?" Babic asked the crowd. Their fans roared with excitement. But to everyone's surprise, they did a rendition of "My Heart Will Go On," the famous song featured in Titanic. I didn't think Celine Dion was the route they were going to take.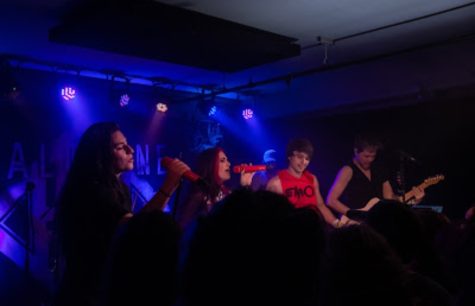 But then another special guest joined the stage: David Michael Frank. The stage was now packed with insanely talented independent artists performing for a full house of fans. Each of them should have been proud. Frank's voice went through the roof, which was wild. It was definitely hard to tell whose voice was higher between Frank's and Amick's. 
Frank also dropped an unexpected surprise for all the fans at The Crofoot. To quote him: "Alright you guys, my debut solo single, 'Only One,' is coming out on August 19th. I was thinking about shooting some of my music video with you guys tonight." All of his fans shouted eagerly. Who knew his fans in Michigan would be a part of something that special? 
Babic also shared something important with all the fans. She said, "We all went through a collective trauma in our own ways a couple of years ago during the pandemic. But I am so grateful for the outpouring of support." She then sang her cover of the song "lovely" by Billie Eilish. Fans pulled out their phone lights and swayed along to the song.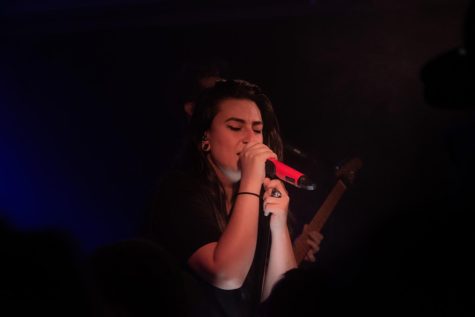 Amick mentioned that her band, Halocene, has been playing for 14 years: "Our first time on tour, we were on the verge of homelessness. We thought touring wasn't our thing until YouTube turned that around for us. It was a constant grind. We released a cover and it was the first video that reached 1 million views and streams on Spotify as well. Thank you for helping our band come back. It is all because of you." 
These artists put on a heck of a show together. They sang some great songs, including "We Will Rock You" by Queen, "Livin' on a Prayer" by Bon Jovi and "Under Pressure" by Queen. The audience shouted the lyrics and jumped along excitedly throughout the show. They knew how to rock with them. At the end, Frank told the crowd that they would be hanging out at the merchandise table in case anyone wanted to meet them. I took this opportunity, like many other fans. All of them were very sweet with their fans, taking the time to take photos or sign things for them.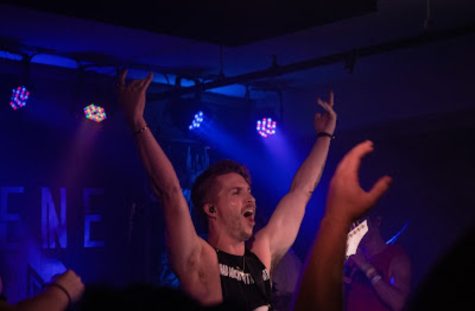 It may have been extremely hot and humid at The Crofoot, but that did not stop these artists from rocking the house that night. Everyone was sweaty, but we all had smiles on our faces. Their fans were very glad and appreciative that they traveled to Michigan to perform. The artists said that we will be remembered as "the sweaty thumb show." We hope they decide to come back to perform again! 
Interested in listening to David Michael Frank's first solo single? Click on the link below!
To listen to more of Halocene's music, click on this link:
And curious to hear more music from Lauren Babic? Click on this link: