Concert Review | Livin' It Big Time With Big Time Rush
Big Time Rush has made a big comeback, big time. The guys started their journey on a self-titled Nickelodeon show, which started in 2009 and ended in 2013, and their last tour together was back in 2014. Currently, they are on their long-awaited Forever Tour and they have also released some new songs as well. The guys were ready to put on a great show for generations of Big Time Rush fans. 
The show opened with Dixie D'Amelio getting the fans hyped for Big Time Rush. She performed a couple of songs, including her famous song, "Someone to Blame," and a great cover of Carrie Underwood's "Before He Cheats." She asked the crowd if they were excited for Big Time Rush, which encouraged kids, teens and young adults to scream.
Fans also wore some fun accessories in honor of the members' fashion sense during their time on Nickelodeon: Some wore bandanas in tribute to James, and some wore hats with green leaves on top in reference to when the members would hide in bushes. It had clearly been a long time coming for fans to geek out over Big Time Rush.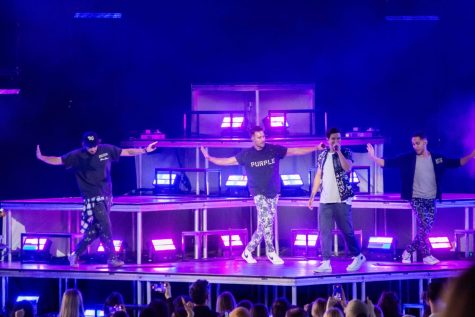 After D'Amelio left the stage, a big, vibrantly colored banner with the words "Big Time Rush" on it draped down, and the crowd screamed at the sight of it. Soon enough, music started playing, which made people get on their feet. Then the banner fell and Kendall, Carlos, James and Logan were on stage. Fans were jumping, screaming and crying as the four guys stood still. Then they jumped from the stage's pillars and started jamming out to "Windows Down," a summer classic. They had the crowd shouting along with them and jumping to the beat of the music. Afterward, they played many of their hit songs, including "Music Sounds Better with U," "Any Kind of Guy," "I Know You Know" and "Stuck." 
But the music wasn't the only draw: The guys' dance breakdowns were so much fun to watch. Their choreography was sharp, especially in tandem with some new Big Time Rush material. Some of the new songs they performed were "Honey," "Not Giving You Up," "Call it Like I See it" and "Fall." Throughout the show, they talked to fans old and new, whether this was their first Big Time Rush concert or one of many. Fans were still screaming even after they asked the crowd if this was their fifth Big Time Rush show. 
In the midst of the concert, they threw T-shirts to the audience. "We don't need to keep them," said Kendall, referring to the shirts. These will surely be great souvenirs for fans to remember the tour by.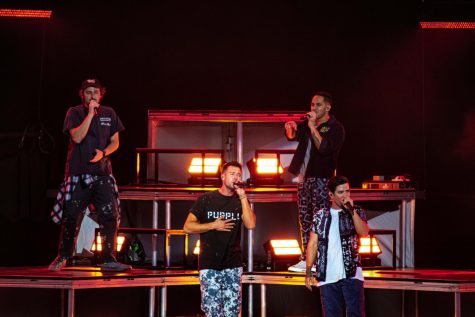 As they finished throwing out T-shirts, James told the crowd "We are not even 'Halfway There.'" Kendall started playing the guitar to kick off one of their biggest songs, "Halfway There." Then, when they started playing "Confetti Down," multicolored lights lit up the stage, Logan started playing drums and confetti shot into the air. Big Time Rush was only getting started. 
The guys told the crowd that "Michigan showed up," and that they were going to play their music as loudly as they wanted! 
However, they decided to slow things down. Each of them sat in a chair and James said, "Hey Carlos, are you going to bust out the ukulele?" Once again, many fans screamed. To our surprise, the guys sang a medley of acoustic versions of songs by other artists. Kendall sang "As it Was" by Harry Styles; Logan sang "I Can't Feel My Face" by The Weeknd; James sang "I'm Too Sexy" by Right Said Fred and "Hot in Herre" by Nelly as Carlos played his ukulele.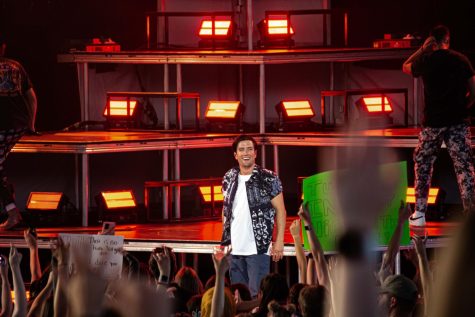 Many fans shouted "Take it off!" in reference to James' shirt. He slid up his shirt a little bit — he was "Halfway There" — until he said he was not going to take any of his clothes off. After that fun session, the guys were looking for some "global fans" to join them on stage. Each member brought up a girl to sing to. Logan walked up higher in the audience to a fan with a sign that read "I'm a Logan kind of girl." Carlos brought up a girl and shared with the audience that her mom told her she was too young to go to a concert a few years ago. Once he said that, a guy behind me shouted, "F**k your mom!" Big Time Rush fans sure don't mess around. 
The guys began to sing another big hit, "Worldwide," to each of the girls. These were some lucky fans. That was a nice surprise for those girls, but it was not the only surprise that Big Time Rush had up their sleeves. Kendall, James and Carlos were on stage, but where was Logan? They started to sing "Paralyzed," but then they stopped once they noticed Logan sitting in the audience. Logan told them that he thought to take a little break and said that they should join him. It wasn't long until each member of Big Time Rush had walked throughout the entire amphitheater, all the while singing to fans. They high-fived many fans, including those far back on the lawn. And, if I am being honest, I even got to touch Logan's hand. And Carlos was right near me too. In fact, a fan handed him a hockey helmet and, sure enough, he put it on. Carlos with his iconic helmet, as if he were on Nickelodeon, was an incredible sight to see. It was such a surreal moment for many fans. Big Time Rush definitely gave them a sweet memory to cherish.
They were nearing the end of their show, but they made sure to amp up the party. They played back-to-back hit songs that encouraged so many fans to shout their lyrics, including "City is Ours," "Big Night," "Till I Forget About You," "Nothing Even Matters" and "If I Ruled The World." The entire amphitheater was jumping and shouting with Big Time Rush. After those songs, the guys fell off each pillar behind the stage one at a time, ending the show. Or so we thought. The crowd wanted an encore and Big Time Rush gave them one. Kendall, Carlos, James and Logan came back out singing the theme song of their famous television show, Big Time Rush. If only Gustavo had been here to enjoy this celebration with his dogs. Only true fans will know what that meant.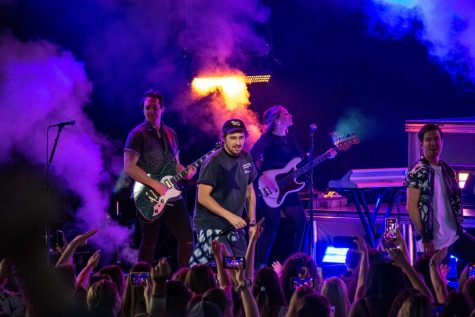 Big Time Rush's final song was "Boyfriend," and they shot out more confetti here than they had throughout the entire show. All there is left to say is wow. What a big time concert. 
Big Time Rush put on such an amazing and fun show. To many, including me, it felt like a reunion. Kendall, Carlos, James and Logan reminded Michigan that "you gotta live it big time!"