A Holiday for Houston and the World of Hip Hop | "June 27th" by DJ Screw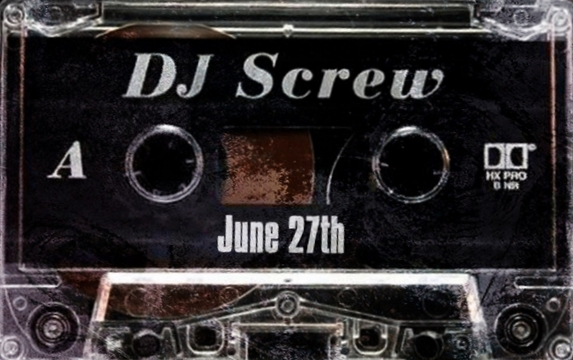 It is fair to say that today is a holiday, though it may not be marked on calendars or observed too widely beyond the state of Texas, or the city limits of Houston for that matter. But the influence of what this holiday commemorates has spread well beyond Texas, well beyond the realm of hip hop's underground and deep into the veins of the genre.
On June 27, 1996, legendary producer DJ Screw recorded a centerpiece of Houston rap — a 38 minute freestyle track called "June 27th" — in honor of his friend D-Mo's birthday. D-Mo was featured on the track, along with Kay-Luv, Haircut Joe, Big Pokey, Yungstar, Key-C, Bird and Big Moe. Of Screw's discography — which includes hundreds of deeply influential chopped and screwed tapes — "June 27th" is the tape that sold the most and arguably left the greatest impact on the city of Houston. 
It's a sprawling track, but it's some of the most fun one can have through the medium of music. Throughout, we're brought to IHOP; we're ushered through countless smoke clouds, we're leaned back, playing NBA Jam. If you look through the comments on a "June 27th" YouTube video, you'll find that countless people return to the track to relax, to embrace summer, to remember friends, to smoke briskets, to pay homage to the legend of DJ Screw — "June 27th" is a remnant of one of rap's most important eras, but it is also a keepsake in the lives of so many. If nothing else, it's something to kick back and nod along to. Today and forever: R.I.P. Screw and happy June 27th.