MSU Multicultural Center Team Provides Community Update
EAST LANSING – June 15, MSU employees cohosted a webinar with SmithGroup to discuss updates related to the MSU Multicultural Center (MCC) to date. SmithGroup is considered one of the nation's leading integrated design firms, was chosen by MSU in January 2022 to design the MCC.
The update was moderated by Tiana Carter, with support from Lisa Sudia and Brian Mullen. They all serve on the Multicultural Center Feasibility Study Planning Committee. The SmithGroup unveiled new updates on designs crafted by the firm, with Monteil Crawley, Julian Arrington, Meghan Diecchio and Tricia Beck showcasing the updates.
Crawley and Arrington provided updates on the internal and external aspects of the MMC.
Some of the design features include the building having two floors with different amenities, including a living room on the first floor and a community kitchen on the second floor. Meeting spaces and resource centers are expected to be housed in this building for multicultural organizations.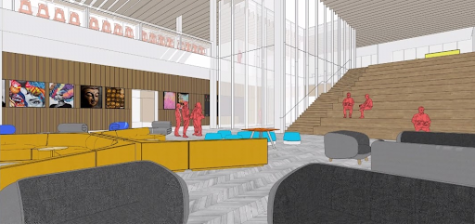 The external view of the building will have a distribution of different shades of green to symbolize the diversity of MSU. The windows of the building were presented with translucent elements to create a unique opportunity to express the movement and activity of the building while rendering a degree of privacy.
"The building can create a unique identity and cast a nice beacon and lighthouse experience for the users at night," expressed Arrington.
Diecchio continued the presentation with an overview of the site, such as program elements and activities.
The site will provide the opportunity for privacy and public activities. Different activities for the MCC are expected to do a few things, including: Hosting awareness community group events, Dance/step performances and Individual and small group seating
Items like the topography and the trees in the proposed area for the MCC were shown. As a reminder, the MCC is planned for construction on the corner of N Shaw Ln and Farm Ln, and a recap can be found here.
The amenities at the MCC would include spaces for events and performances, such as an amphitheater or terrace and a fire pit. Hammocks will also be available for use outside at the MCC. Operations under consideration for the site will include stormwater management, a service area for university services, ADA-accessible parking and bike parking.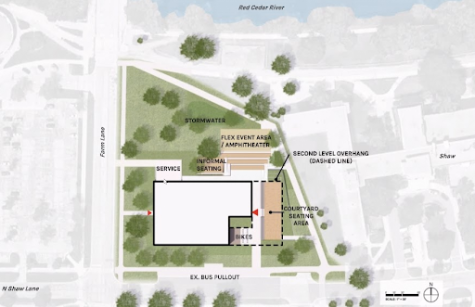 Following the presentation, a Q&A was moderated by Carter with several questions posed to the SmithGroup and members of the Multicultural Center Feasibility Study Planning Committee. One attendee asked, "Is the exterior primarily glass, and if so, what is the rationale for it and the lifespan for such a structure?" Crawley responded, stating that it depends on the functionality and how transparent or translucent the building would be for things like letting in natural light.
More community updates are expected to happen in the future, announced through the Office for Institutional Diversity and Inclusion.