FRIB Ribbon-Cutting Ceremony Unveils New Era of Nuclear Science
EAST LANSING – This past Monday morning, May 2, the US Department of Energy (DOE) and Michigan State University (MSU) held an opening ceremony for the Facility for Rare Isotope Beams (FRIB) in the Cobb Great Hall at the Wharton Center for Performing Arts.
FRIB is a new DOE accelerator facility officially completed this year, ahead of time and on budget. FRIB replaces the Coupled Cyclotron Facility with its next-generation superconducting linear accelerator. Some of the speakers for this event from MSU were FRIB Laboratory Director Thomas Glasmacher, MSU President Samuel Stanley Jr, and MSU Board of Trustees Chair Diane Byrum.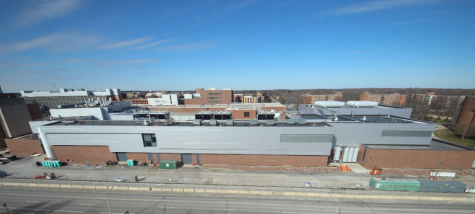 The event also featured Michigan Governor Gretchen Whitmer, Congressman Tim Walberg (R-MI), Congresswoman Brenda Lawrence (D-MI), Congresswoman Elissa Slotkin (D-MI), Senator Gary Peters (D-MI), Senator Debbie Stabenow (D-MI), and US Secretary of Energy and past Michigan Governor Jennifer Granholm.
Other notable attendees in the audience were the rest of the MSU Board of Trustees, East Lansing Mayor Ron Bacon, Lansing Mayor Andy Schor, and other local state representatives. The theater was packed with enthusiastic members of the community.
Each featured speaker gave remarks about their relationship with FRIB and the impact this facility will have not only in the Michigan community but also on an international scale.
Laboratory Director Glasmacher shared how FRIB will push the boundaries of nuclear science. For example, FRIB is set to discover new isotopes, some of which will give greater clarity on how different elements were produced in space. A new isotope harvesting capability will also provide a unique production pathway for isotopes important for the medical industry.
Governor Whitmer shared her perspective about the impact FRIB will have on the state of Michigan. "When esteemed academics are gauging where to do more groundbreaking research, the answer is Michigan. When an aspiring Ph.D. student is considering where to bring their talents, the answer is Michigan."
She also highlighted how FRIB's economic impact, valued at an estimated $4.4 billion.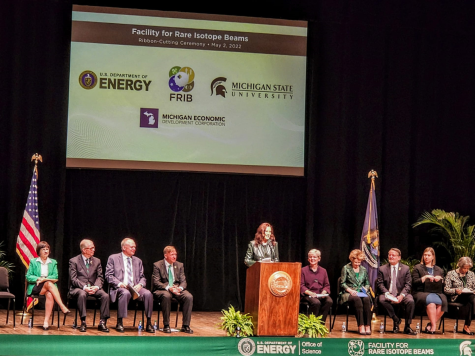 Congressman Walberg, Senator Stabenow, and Secretary Granholm also brought a unique perspective because they were involved in the early days of getting FRIB to Michigan. All three shared how they engaged with their constituents to learn how they felt about what was touted as a Superconducting Supercollider at the time between the 90s and 2000s. During the Argonne National Laboratory and MSU bid, signs were littered all over MSU reading "Bring FRIB to our crib." It wasn't until 2008 that MSU won the DOE bid to construct and host the FRIB.
FRIB will also have an impact on increasing representation in nuclear science. As highlighted by Congresswoman Lawrence, "I am grateful that FRIB is collaborating with nine minority-serving institutions to help coordinate a nationwide effort to improve diversity and representation within the nuclear physics scientific community."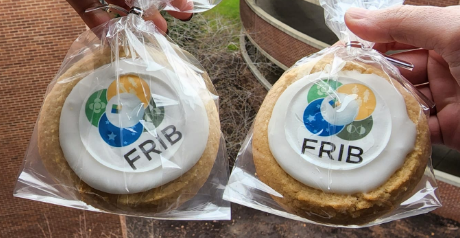 Following the remarks, President Stanley and Secretary Granholm cut the ribbon, each with a pair of giant scissors, commemorating the opening of FRIB. Then, the event continued outside for a picnic with complimentary meal provided to attendees and self-guided tours of FRIB.
The golden age of nuclear science is here, and MSU will be its heart.