MSU linebacker Quavaris Crouch enters the transfer portal
EAST LANSING, Mich— Michigan State senior linebacker Quavaris Crouch has entered the transfer portal.
Crouch, a former Tennessee prospect, started in nine games for the Spartans and appeared in 10 this past season. He missed the final two games of the year due to injury, but finished fifth on the team with 75 tackles.
In addition, he compiled two sacks, three quarterback hits and a forced fumble. He was named as an honorable mention All-Big Ten selection for his efforts.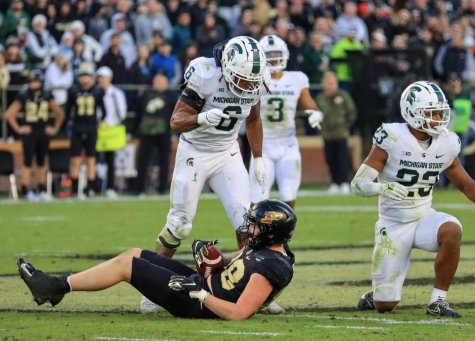 Before coming to MSU, Crouch spent two years at Tennessee where he started in 20 games at linebacker. He was a high four-star recruit out of Charlotte, North Carolina who held offers from the likes of Clemson, Michigan, Alabama, Georgia, Ohio State, Notre Dame, LSU, USC, Texas and Florida State. Crouch was also named as the 2017 Gatorade Player of the Year for North Carolina.
By entering the portal, he will have to sit out a year, if he ends up leaving. He previously used his one-time immediate eligibility exception when transferring from Tennessee to MSU.
Crouch is also the third Spartan to enter the portal since the conclusion of the 2022 spring game, following running back Donovan Eaglin and cornerback Antoine Booth.
Crouch was facing an uphill battle for playing time with the return of freshman All-American Cal Haladay, 2021 four-star Ma'a Gaoteote and Ben VanSumeren. The Spartans also brought in accomplished transfers Aaron Brule (Mississippi State) and Jacoby Windmon (UNLV) to further shore up the linebacker corps.