2022 NFL Mock Draft
This NFL offseason has been one of the most hectic of all time, with star players like Russel Wilson and Tyreek Hill leaving the teams they started with for new ones to call home. But the excitement will only grow as one of the most important events of the NFL offseason, the NFL draft happens this Thursday. While draft-day trades are possible, it is likely that the trades will keep to a minimum as there is more than enough talent to satisfy team needs in this year's class.
This draft holds strong talent in nearly every position, but it highlights two main position groups: wide receivers and defense. This year the defensive prospects are some of the best in a while, especially at the defensive line as there are upwards of six defensive linemen projected to go in the first round. The receivers in this draft are not to be overlooked as each one has been explosive in their own way over the last college season. 
With everything set to begin, let's take a look at our 2022 NFL Mock Draft.
1. Jacksonville Jaguars: Aidan Hutchinson – Defensive End, Michigan
Last season for the Jaguars was abysmal on both sides of the ball. While protecting star Trevor Lawrence is an important need, it is unlikely the Jaguars make a move for an offensive lineman after signing Brandon Scherff and franchise tagging Cam Robinson this offseason. Having Hutchinson across from Josh Allen would give the defense the explosive pass-rush they need to move to the next level.
2. Detroit Lions: Travon Walker – Defensive End, Georgia
Defense is the primary need for the Lions. Walker is an aggressive edge rusher and would be a perfect fit for the Detroit defense under Dan Campbell, who is well known for his aggressive attitude on the field. Walker's ability to shed blocks and create gaps is something that Detroit desperately needs as they ranked No. 31 in overall defense and No. 28 in QB pressures a season ago.
3. Houston Texans: Ikem Ekwonu – Offensive Tackle, North Carolina State
With head coach Lovie Smith declaring rookie quarterback Davis Mills the new starter for the team, it is operative that the Texans have adequate protection for Mills. The Texans' offensive line was one of the worst in the NFL last season holding the worst run-blocking grade in the league. Houston will benefit from the dominant run-blocker that is Ekwonu.
4. New York Jets: Sauce Gardner – Cornerback, Cincinnati
The Jets have quite a bit to work on defensively and getting Ahmad "Sauce" Gardner is a must. While his confidence is borderline cocky, he definitely has the skills and performance to add the "bite to his bark". And with defensive guru Robert Saleh as his head coach, Gardner is poised to have a dominant rookie season.
5. New York Giants: Evan Neil – Offensive Tackle, Alabama
Evan Neil is a much-needed acquisition for a struggling Giants offensive line. His ability to dominate in the blocking game will be key in allowing Saquan Barkley to have the bounce-back season he needs to help put the Giants back in contention.
6. Carolina Panthers: Kenny Pickett – Quarterback, Pittsburgh
With all of the moves at quarterback that Carolina has made over the past few years, it seems as though they are desperate for a franchise quarterback. Current projections have Malik Willis off the board before Pickett, but Pickett fits what Carolina has been looking for in a quarterback.
7. New York Giants (from Bears): Kyle Hamilton – Safety, Notre Dame
After this past season and offseason, defense is something the Giants should address, and what better way to do that than with the all-around player that is Kyle Hamilton. Hamilton has the size and speed to play anywhere on the field and has the playmaking ability to take advantage of any play that comes his way. Hamilton has the potential to make the Giants' defense elite.
8. Atlanta Falcons: Kayvon Thibodeaux – Defensive End, Oregon
While Thibodeaux fell from his projected No. 1 overall slot at the start of the season, he still has the skills to be an excellent pass rusher in this league. With his strength and pure determination to get to the quarterback, Thibodeaux will be a hard force to stop on the field.
9. Seattle Seahawks (from Broncos): Charles Cross – Offensive Tackle, Mississippi State
The offensive line is something the Seahawks have struggled with for a long time as former quarterback Russell Wilson was sacked 427 times since he was drafted in 2012 (the most of any quarterback in that time period). With the plethora of draft picks Seattle received in exchange for sending Wilson to Denver, it is possible that the Seahawks try to trade up for a quarterback, though the offensive line should be more of the focus, especially with the other dominant pass-rushers from Seattle's NFC West foes.
10. New York Jets (from Seahawks): Garrett Wilson – Wide Receiver, Ohio State
Even though the need for receivers isn't as pressing as other positions for the Jets, giving Zach Wilson a reliable duo in Garrett Wilson and Elijah More is something that should be done in order to make the Jet's offense competitive in the AFC.
11. Washington Commanders: Jameson Williams – Wide Receiver, Alabama
With the recent acquisition of quarterback Carson Wentz, the need for more offensive weapons is imperative for Washington. Williams would also be a good complement to star Terry McLaurin and could lead to explosive performances from both receivers. The one downside is the torn ACL Williams suffered in the FBS national title game, but if his medical review comes back positive, he will be an excellent addition to the Commanders' receiving core.
12. Minnesota Vikings: Derek Stintly Jr. – Cornerback, LSU
Minnesota has already made some major moves in the offseason with the signing of Za'Darius Smith. Stintly Jr. would make an excellent addition to the secondary if he is able to perform as he did in his 2019 season with the Tigers.
13. Houston Texans (from Browns): Drake London – Wide Receiver, USC
The Texans have had a lot of issues to deal with this offseason, one of them being getting Davis Mills some more targets to throw to. London would make a good wideout opposite to Brandin Cooks and could help solidify the build around Mills.
14. Baltimore Ravens: George Karlaftis – Defensive End, Iowa
Even though both sides of the football perform well, the Baltimore pass-rush could use some improvement. Having Karlaftis and Calais Campbell work together could seriously increase pressure on opposing quarterbacks.
15. Philadelphia Eagles (from Dolphins): Jordan Davis – Defensive Tackle, Georgia
The Philadelphia pass-rush leaves something to be desired and Davis could be the solution. Davis is explosive off the snap and has the power to go through the offensive line and create holes for other pass rushers.
16. New Orleans Saints (from Colts through Eagles): Treylon Burks – Wide Receiver, Arkansas
Receivers are an area New Orleans desperately needs to shore up. With star receiver Michael Thomas coming back after two injury-riddled seasons, the need for another wideout is imperative. Treylon Burks has the explosive ability to help the Saints' offense get back on its feet and be a serious competitor in the NFC.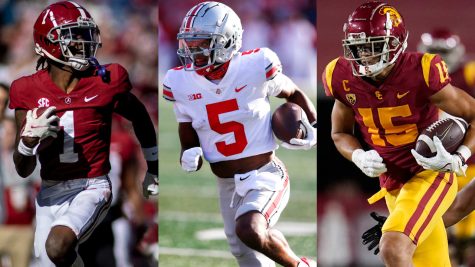 17. Los Angeles Chargers: Trevor Panning – Offensive Tackle, Northern Iowa
The Chargers have made a lot of moves this offseason, mainly focusing on the defense. It makes sense that LA will go for another tackle, with Reshawn Slater being a success and the offense having good depth in every other position. Panning could be an excellent addition that keeps star quarterback Justin Herbert safe from opposing defenses.
18. Philadelphia Eagles (from Saints): Chris Olave – Wide Receiver, Ohio State
Philadelphia will want to add another explosive receiver to compliment Devonta Smith. The pair could build off each other and dominate against opposing secondaries.
19. New Orleans Saints (from Eagles): Tyler Smith – Offensive Tackle, Tulsa
New Orleans lost a star in Terron Armstead but hopes to replace him with Smith. Smith is able to keep edge rushers at bay with his powerful demeanor and is good at blocking with the wide run. He could also use the experience of the coaching staff and fellow linemen to become the star that the Saints can depend on.
20. Pittsburgh Steelers: Malik Willis – Quarterback, Liberty
Even though the Steelers have signed former Bears quarterback Mitchell Trubisky, they have been open about wanting Malik Willis. Willis would make a good fit for Tomlin's offense and could develop into their franchise quarterback within a year or two.
21. New England Patriots: Trent McDuffie – Cornerback, Washington
New England recently lost its star cornerback J.C. Jackson. While the team signed safety Jabrill Peppers, the addition of McDuffie could help bolster the weakened defense and make New England a serious competitor in the AFC to get back to its ways of contending for a Super Bowl.
22. Green Bay Packers (from Raiders): Christian Watson – Wide Receiver, North Dakota State
With the trade of star receiver Davante Adams, the Packers will look to try their best to replace him. Watson has a great blend of size and speed that could make him a top new target of quarterback Aaron Rodgers.
23. Arizona Cardinals: Devonte Wyatt – Defensive Tackle, Georgia
With the loss of Chandler Jones and the injury uncertainty surrounding JJ Watt, the Cardinals need a young pass rusher who can perform. Wyatt has an incredible ability to create gaps and prevent run plays from succeeding. Wyatt will help keep the Arizona defense, and the Cardinals as a whole, in the race for the playoffs.
24. Dallas Cowboys: Jahan Dotson – Wide Receiver, Penn State
Since Dallas sent veteran Amari Cooper to the Browns, it will be looking for another receiver to take his place. Dotson has the speed and agility to get open anywhere, which will be very beneficial for quarterback Dak Prescott. Dotson and CeeDee Lamb have the ability to become a dangerous receiving duo.
25. Buffalo Bills: Andrew Booth Jr. – Cornerback, Clemson
While the Bills already have Tre'Davious White, a lockdown corner, the other side of the field needs similar attention. Booth has excellent playmaking ability that will allow him to excel against tougher opponents.
26. Tennessee Titans: Kenyon Green – Offensive Tackle, Texas A&M
Tennessee has a couple of positions that could use some help, but the offensive line needs a boost since it lost right tackle David Quessenberry and guard Rodger Saffold in the offseason. Keeping Ryan Tannehill safe and giving him time to make plays, along with making holes for star running back Derrick Henry, will make the Titans' offense a sure lock for the playoffs.
27. Tampa Bay Buccaneers: Zion Johnson – Offensive Guard, Boston College
The Buccaneers have no positions that desperately need to be filled, so why not take an offensive lineman to help keep Tom Brady safe? The more time Brady has to throw the ball, the better the team will be, and that is precisely what Johnson will do.
28. Green Bay Packers: George Pickens – Wide Receiver, Georgia
The Packers have struggled with receiver depth and now is the time to solve it. Both Watson and Pickens have the potential to be serious threats on the field and having both young and old receivers allows for a healthy turnover for the future.
29. Kansas City Chiefs (from 49ers through Dolphins): Daxton Hill – Safety, Michigan
With the loss of Tyrann Mathieu, the Chiefs' secondary is going to need a serious boost. While Daxton Hill isn't quite as explosive as Mathieu, he will still have a noticeable impact on the defense. Hill's ceiling is high, especially with Andy Reid as his head coach.
30. Kansas City Chiefs: Skyy Moore – Wide Receiver, Western Michigan
Though the Chiefs lost star receiver Tyreek Hill this offseason, they have made good moves in order to make his departure less felt. The addition of Moore could give Mahomes someone to target who can rack up yards after the catch.
31. Cincinnati Bengals: David Ojabo – Defensive End, Michigan
Ojabo's Achilles tear is the main reason he is so far down the board. The Bengals pass-rush can go without Ojabo if he needs it. Once Ojabo is healthy, the Bengals pass-rush will be one opposing quarterbacks will fear.
32. Detroit Lions (from Rams): Nkobe Dean – Linebacker, Georgia
The Lions' linebackers were sub-par last season and the addition of Dean would be an immediate upgrade. Dean fits anywhere and head coach Dan Campbell could take advantage of his abilities to attack the quarterback or cover tight-ends, where he can abuse his physicality to disrupt any attempt for opposing offenses to move the ball.