Spartan track and field prepares for the Indiana Invitational
EAST LANSING—The Michigan State track and field program will have yet another busy weekend, sending athletes to multiple meets over the next few days. Senior Jenna Magness will run Friday at the Virginia Challenge in Charlottesville, while the rest of the team will head down to Bloomington to compete in the Indiana Invitational on Friday and Saturday. 
Magness, who made her outdoor debut last weekend at the Louisville Invitational, will run the 5000m for the first time since early March, when she placed sixth in the event at the NCAA Indoor Championships. 
Magness is set to face great competition in her heat, most notably sophomore phenom Katelyn Tuohy of North Carolina State. After sitting out with an injury for the first half of her freshman year, Tuohy has rebounded by running the fastest women's 1500m time this season.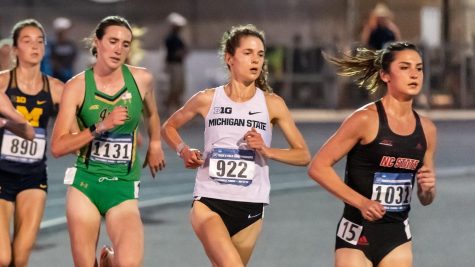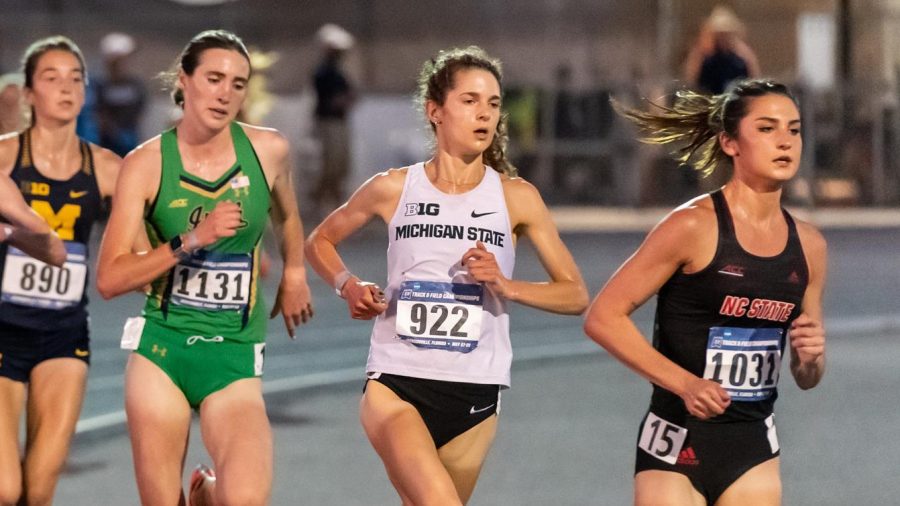 Samantha Bush, Savannah Shaw and Hannah Steelman, three of Tuohy's teammates who are also running against Magness, all rank inside the top-20 women's 5000m from this outdoor season. 
While Magness is racing in Charlottesville, a handful of Spartans will have already competed in Bloomington. 
Graduate student Morgan Beadlescomb is in for a busy few days, as he is scheduled to run the 800m, the 1500m and the 4x400m relay. It will be Beadlescomb's first 800m race since May 1 of last year, where he ran his PR of 1:48.13 on this same track. 
Beadlescomb is coming off a historic performance at the Bryan Clay Invitational, as he ran the eighth-fastest outdoor 5000m time in NCAA history, 13:17.16, good for second place in the event and a new school record. The performance earned him Big Ten Men's Outdoor Track Athlete of the Week. 
The 4x400m relay will be Beadlescomb's first of his collegiate career, and he will run it with fellow 1500m and 800m runner John Petruno, as well as freshmen duo Terrence Muex and Noah Sage.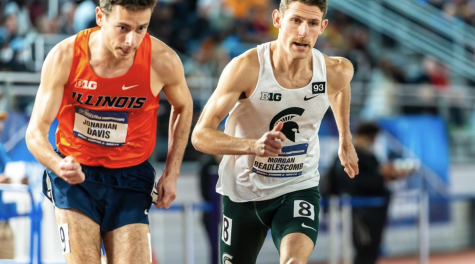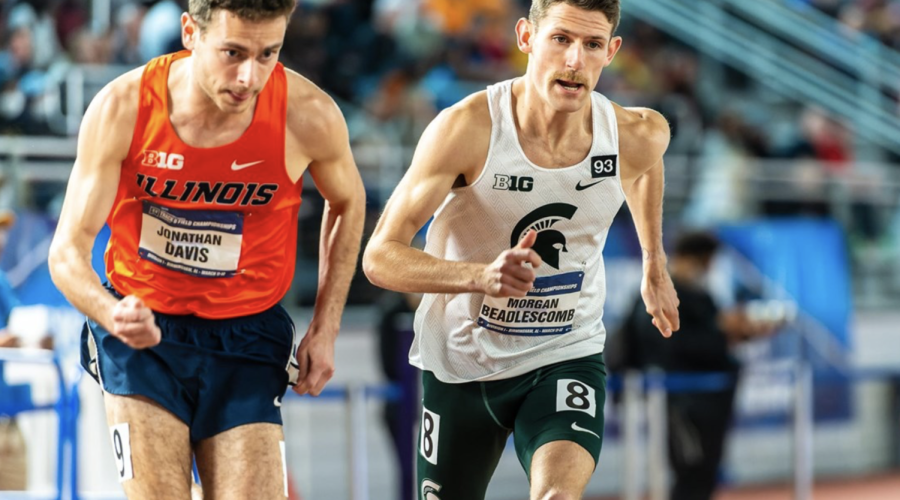 A number of Michigan State women will compete in the 5000m, most notably graduate student Lynsie Gram, who is running in her first outdoor race since the Raleigh Relays, as well as redshirt junior Makayla Perez and sophomore Fatima Giron, who was tabbed as the Big Ten Women's Cross Country Athlete of the Week last cross country season. 
Senior Sophia Franklin will also look to avenge her third-place finish from last weekend, as she'll again match up against Louisville's Gabriela Leon and Aliyah Welter, who took first and second, respectively, at the Louisville Invitational. 
Junior Jaiden Paris, who won the 100m hurdles last weekend with a PR time of 13.45 seconds, will compete in the event once again in Bloomington. She'll also run in the women's 4x100m relay with seniors Brooke Bogan and Shakira Dancy, as well as sophomore Amani Nuels. 
Friday's action will begin with a handful of track events at 5:30 p.m. in Bloomington, while Magness will run later that evening at 9:05 p.m. The Indiana Invitational will pick back up on Saturday at 11:00 a.m.