Spring football provides some insight on toughest position battles
EAST LANSING, Mich – Spring football has concluded for Michigan State in 2022. The finale was the spring practice/game on Saturday. 
MSU exceeded expectations in Mel Tucker's second season last year and went 11-2 with a Peach Bowl victory. 
The difference this season will be the heightened expectations of a program on the rise. The spring season is a good barometer of who may step up once the fall comes around and how the depth chart will shake out for different position groups.
Quarterbacks
Obviously, Payton Thorne is the starter and will be the leader of this team heading into next season. Where this gets interesting will be the battle for the backup job. Last season, Anthony Russo transferred in from Temple to compete for the starting job but was eventually beaten out by Thorne and became the backup.
"It's a competitive situation out there," said Tucker.
This season the job for backup quarterback seems to be wide open and each candidate has a very different case. Noah Kim is the most experienced of the bunch as a redshirt sophomore, but he was a Dantonio era recruit who has yet to see real playing time in his career. Kim had a solid spring game showing that was highlighted by a long pass to Jayden Reed that was hauled in with Charles Brantley draped all over him in coverage.
Hamp Fay was the first Mel Tucker quarterback recruit. He is a redshirt freshman from Texas. Fay has not played very many snaps as a quarterback because he played tight end in high school. At 6-foot-5 and 220 pounds, his massive frame provides loads of potential paired with a good arm.
"Things are starting to settle down for him," Tucker said about Fay this spring. "I love to see young players develop like that."
Perhaps the biggest wildcard in the QB room is true freshman Katin Houser. The second quarterback to participate in 11-on-11 drills was Houser. He was invited to the Elite 11 quarterback camp and rose in recruiting rankings later in the cycle. If Houser does jump to number two on the quarterback depth chart, look for Fay or Kim to potentially enter the transfer portal.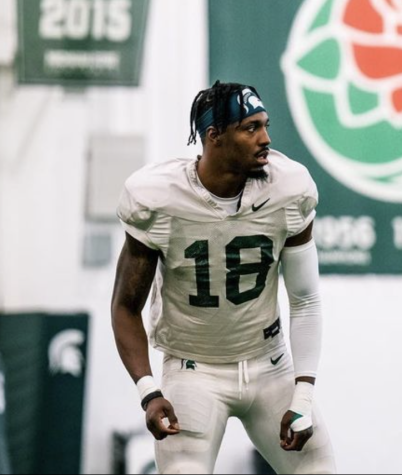 Defensive backs
Although MSU won 11 games a season ago, the defensive backfield was a glaring weakness. The Spartans ranked dead last in FBS allowing over 320 passing yards per game. Cleaning up the secondary will determine if Michigan State can meet or exceed the success from a season ago.
The biggest addition to the secondary this season is Georgia transfer Ameer Speed. The 6-foot-3 senior cornerback was a major standout during the spring. Michigan State's offense got good reps against a good defensive back with championship pedigree on Saturday.
Thorne said that Speed has the ability to cancel out a wide receiver with his skill and size. He also said, "Speed is a dude that you know where he's at on the field at all times."
Darius Snow played safety last season and will be a much more versatile piece for defensive coordinator Scottie Hazelton to use next season. Snow forced a fumble in the spring game that was returned for a touchdown by Jacoby Windmon.

"I'm just gonna call myself a football player from now on," said Snow when asked what position he would consider himself this season. He said he has learned how to play five positions on defense and understands schemes and sees the game much better now.