Slowik & Surdenik: Projected offensive lineup for the MSU
EAST LANSING, Mich- Football is back… kinda. Michigan State will hold its spring game this weekend on Saturday, April 16. With the new season on the way comes many new (and probably wrong) projections of who will be playing consistently come Sept. 2 against Western Michigan. Here is the projected lineup for the Spartans on the offensive side of the ball. 
Quarterback:
Payton Thorne is set to start his second season as the Spartans' starting quarterback. He is entering his redshirt junior year after leading MSU to an 11-win season, where he broke Kirk Cousins' single-season passing touchdown record with 27. Thorne also threw for 3,240 yards, the 23rd-best mark in the country.
Behind Thorne contains a very talented young room composed of Hamp Fay, 2022 four-star recruit Katin Houser and redshirt sophomore Noah Kim. All of them should get looks on Saturday, looking to lock up the backup job. It does bear noting that none of MSU's current QB's other than Thorne have ever appeared in a regular season game.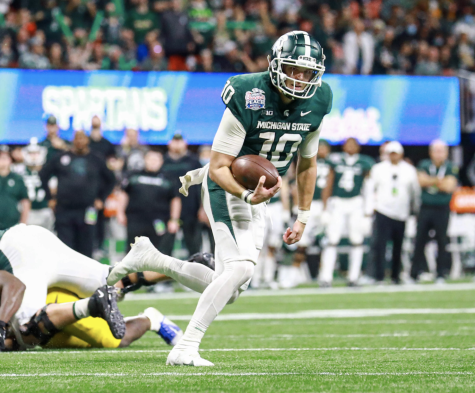 Running back:
The Spartans lost an integral part of their offense with the departure of Doak Walker Award winner and First-Team All-American Kenneth Walker III. With that said, MSU possesses a very skilled running back room that includes Wisconsin transfer Jalen Berger and Colorado transfer Jarek Broussard. Both players have significant college experience, especially Broussard. He was the 2020 Pac-12 Offensive Player of the Year after rushing for 895 yards and five rushing touchdowns.
Broussard also ran for 661 yards on 142 carries in 2021. Berger, meanwhile, ran for 301 yards and two scores in 2020. He only appeared in three games in 2020 for the Badgers.
They will be joining Jordon Simmons, Harold Joiner, and Elijah Collins, who all have significant experience in meaningful games for the Spartans. Redshirt freshman Davion Primm, an Oak Part native and 2021 recruit, has received high praise from offensive coordinator Jay Johnson and could be in line for a larger role going forward.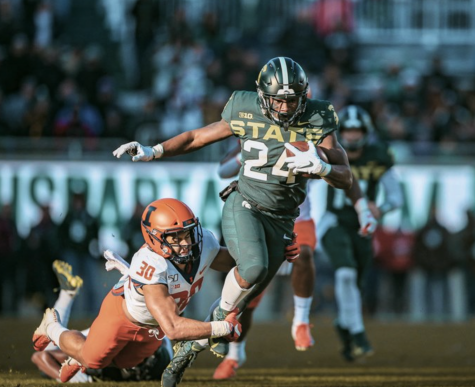 Wide receiver:
Jayden Reed, one of the most dynamic receivers and returners in the country, will be returning as MSU's main receiving option. Reed was a first-team All-American (all-purpose player) by the American Coaches Football Association in 2021. He caught 92 passes for 13 touchdowns and over 1,000 yards to go along with 1,674 all-purpose yards.
Redshirt junior Tre Mosley is also returning to MSU for the 2022-23 season. He had 35 receptions and 530 yards, he also caught four touchdowns. Mosley displayed his skills as a consistent route-runner and exceptional pass-catcher time and time again in 2021. Returning with Reed and Mosley are Keon Coleman and Montorie Foster who both saw playing time in 2021. 
New to the room is four-star freshmen Germie Bernard and Antonio Gates Jr. Bernard, an early enrollee, was initially committed to Washington before choosing MSU on Jan. 9.
2022 three-star wideouts Tyrell Henry and Jaron Glover will join the team in the summer.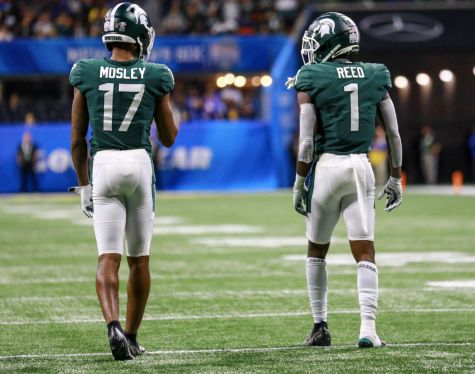 Tight end:
Converted running back Conor Hayward filled a much-needed void at tight end last season. Now with his departure, it will be up to Purdue transfer Maliq Carr, as well as Illinois transfer Daniel Barker. Carr joined the team last season and had a solid freshman season, including two catches for 35-yards in MSU's 31-21 Peach Bowl victory over Pittsburgh. 
Barker had 743 receiving yards, as well as 10 receiving touchdowns, at Illinois over the past three seasons. Two-year starter Tyler Hunt is also set to return for MSU. 
The 2022 class also features two three-star tight end commits in early enrollee Jack Nickel and Michael Masunas.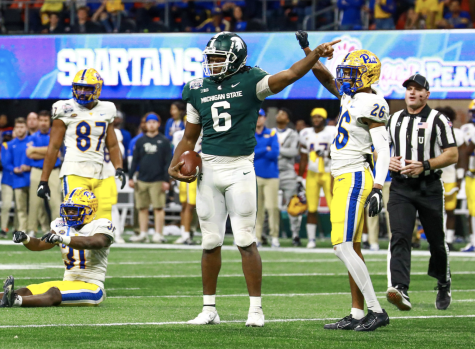 Offensive Line:
With the departure of Matt Allen, Kevin Jarvis, Blake Bueter, AJ Arcuri and Luke Campbell, offensive line coach Chris Kapilovic and the Spartans will be tasked with rebuilding MSU's offensive line. Losing five guys with multiple years of experience is going to be difficult to replace. 
The good news is the Spartans frequently played seven-plus linemen each game, giving returning players in-game experience. Jarrett Horst started eight games at left tackle for the Spartans last year and was able to earn All-Big Ten honorable mention honors. 
Senior guard J.D. Duplain will join Horst as an experienced starter, starting in 23 games over the last three seasons. 
Nick Samac and Spencer Brown all played in several last year and will be much help coming game one in September. Samac specifically appeared in every game last season in a key rotational role and has 10 career starts to go along with 27 game appearances. 
Brown has one start under his belt, the 2021 Peach Bowl, but did receive significant playing time against Maryland and Youngstown State. The Walled Lake Western product also appeared in the latter stages of blowout wins against Northwestern Miami (FL) and Western Kentucky.
Washington State transfer Brian Green will be joining the team in the summer and will provide experience for an inexperienced offensive line. He started in 10 games and appeared in 29 for the Cougars over a four-year span.
Four 2022 offensive linemen, Kristian Phillips, Gavin Broscious, Braden Miller and Ashton Lepo will join the Spartans during summer conditioning.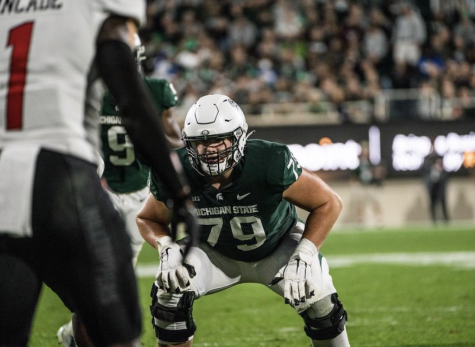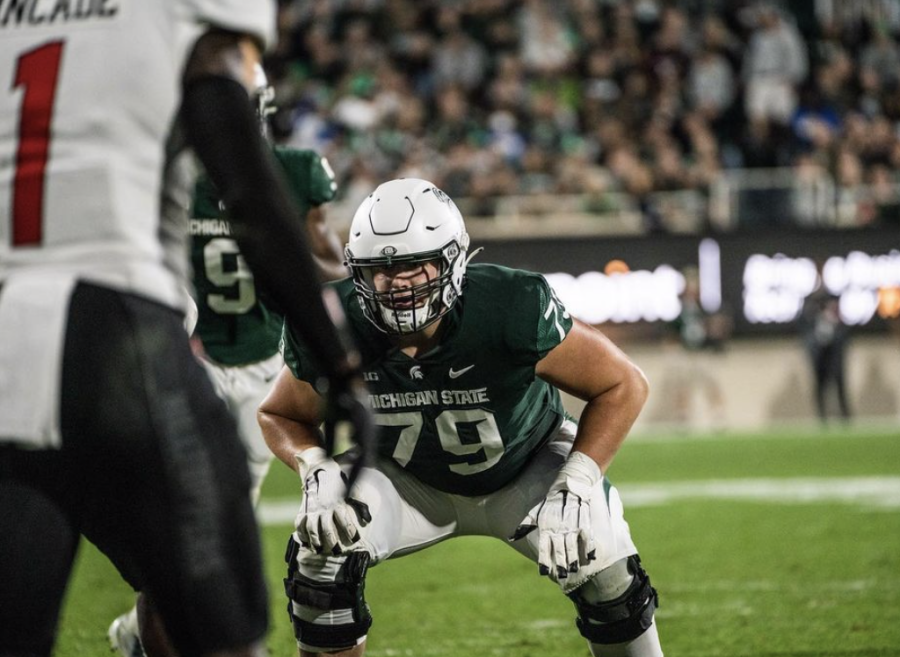 Special teams:
Punter:
Sixth-year senior Bryce Baringer will return to Michigan State for the final time. He earned second-team All-Big Ten accolades from coaches and media in the 2021 season; Baringer set a school single-season record with his 48.4 yard punting average, also the second-best mark in Big Ten history. He had 26 punts of at least 50 yards and 10 of 60-plus yards.
Kicker:
Three-star incoming freshman Jack Stone should take over starting kicking duties in 2022. The Dallas, Texas native chose Michigan State over schools such as LSU and Cal and will join the team in the summer. Stephen Rusnak and Evan Morris, who both kick extra points last season, are returning as well.