PREVIEW: MSU baseball heads to Ohio State for weekend series
The Michigan State baseball team travels to Columbus, Ohio to take on the Ohio State Buckeyes on Saturday to start a three-game weekend series at Nick Swisher Field. 
This will be the first and only series between the Spartans and Buckeyes this season. 
The Spartans (12-13, 1-2 Big Ten) are coming off of being swept by the Evansville Purple Aces in a three-game series last weekend and have struggled with only recording one win in their last five games. Their only win was a 12-5 victory over the Youngstown State Penguins last Wednesday at home. MSU is also looking to improve its record on this season as it faces a losing record of 4-7 on the road.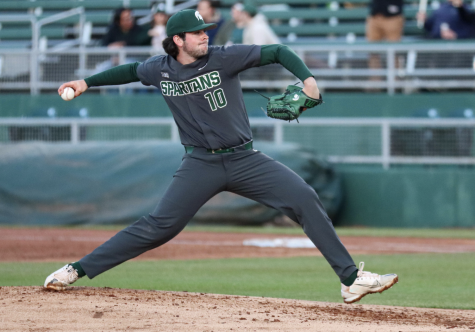 The Buckeyes, on the other hand, have also been struggling recently as well. Ohio State (9-16, 0-4 Big Ten) snapped a four-game losing streak with a 5-4 win in 10 stressful innings against an in-state foe, Youngstown State.
Despite the Spartans' struggles this season, there have been some bright spots. Sophomore infielders Trent Farquhar and Mitch Jebb lead the Spartans on the season with three home runs apiece, and both have a batting average of over .300, which leads the team.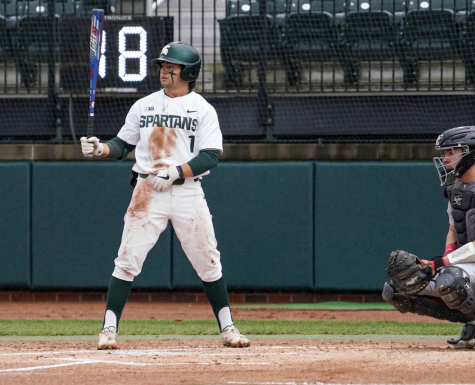 The Spartans have also been led by strong pitching performances by sophomore Nick Powers and redshirt junior Wyatt Rush, who both have an ERA of under 360. This Spartan team is also very young, consisting of mostly freshmen and sophomores. 
Some talented freshmen that have shined for the Spartans this year include catchers Bryan Broecker and Christian Williams. Both Broecker and Williams have recorded one home run, 10 RBIs and a batting average of over .200.  
The Spartans will return home next week to Kobs Field to face off against the Eastern Michigan Eagles on Tuesday and the Western Michigan Broncos on Wednesday before ending the week with a three-game weekend series with the Michigan Wolverines that includes the Capital Cash game at Jackson Field in Lansing on Friday, April 15.