Spartans add third transfer in Michael Underwood
EAST LANSING, Mich— Michigan State has added its third transfer since March 28.
On Wednesday evening, former Clarkson defenseman Michael Underwood announced that he would be transferring to MSU via his Instagram page. A graduate transfer, Underwood notched five goals and 13 assists over the past four seasons for the Golden Knights.
Clarkson hockey is a Division I program that is a member of the ECAC conference. All three transfers that the Spartans have gotten (former Brown forward Justin Jallen and former RPI forward Zach Dubinsky) were former ECAC players.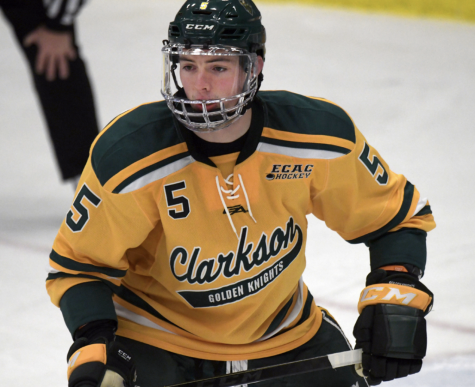 The 6-foot-1, 200-pound Underwood is a Bloomfield Hills native and appeared in 129 games over a four-year span for Clarkson. A steady and consistent defensive presence, he skated in at least 22 games for the Golden Knights dating back to the 2018-19 season. He is a much-needed veteran addition to a depleted MSU blue line that has seen Aiden Gallacher and Christian Krygier enter the transfer portal, alongside forwards Kristoff Papp, Adam Goodsir, Josh Nodler and goaltender Drew DeRidder.
Underwood helped lead Clarkson to a 21-10-6 overall record that included a 14-4-4 conference mark and two wins over Union College in the ECAC playoffs. In each of the past four seasons, the Golden Knights have amassed a winning record, including three 20-plus win seasons. They have also won three titles in their program history and made seven Frozen Fours.
The Golden Knights made the NCAA Tournament in both the 2018-19 and 2019-20 seasons.
In addition to Underwood, the Spartans are set to return defensemen Nash Nienhius, Powell Connor, Cal Dybicz and David Gucciardi. Dennis Cesana, the Krygier brothers and Gallacher will not be returning to help anchor a somewhat inexperienced MSU defensive unit