Concert Review | Grouplove Leaves Spartans Tongue Tied At The Breslin Center
Last week, Grouplove headlined Michigan State University's first Spring Concert since 2019. Many fans stood outside in the cold at Breslin center excited to see the show. The concert sold over 2,500 tickets. 
The Associated Students of Michigan State University, Residence Halls Association, University Activities Board, and our own radio station, Impact 89 FM helped organize the event. Before the concert, Grouplove took the time to sign some posters for Impact and did a meet and greet with the concert's organizers.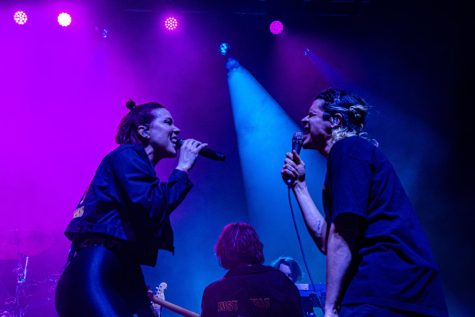 Andrew Miller-Thomas, the University Activity Board's Music and Arts coordinator, met Grouplove and said, "They're a really down-to-earth group of people." 
The Residence Halls Association's National Communications Coordinator Alyssa Ewell also met Grouplove. 
"It was super cool meeting Grouplove! The band was open to conversation and excited to perform for thousands of MSU students. They even loved the artwork we put out for advertising the concert," Ewell said. 
Kyle Davidson, Impact's entertainment editor, interviewed one of Grouplove's members, Daniel Gleason. 
"It was an interesting experience. I knew heading into the interview that Dan was a local, so it was great to hear about some of his connections with the Lansing area. It's always pretty cool to get to know some of the people behind the music and get some insight into how they create their art," Davidson said.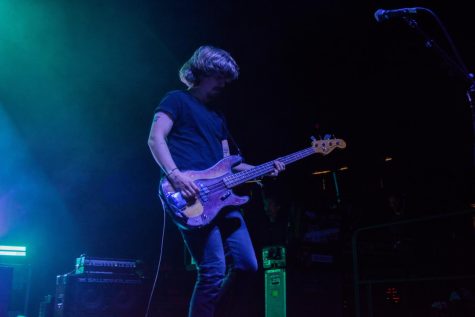 Grouplove has created original music for many projects including The Fault in Our Stars. They also created the end credits theme for BoJack Horseman, "Back in the '90s." This encouraged Davidson to ask about their collaboration with BoJack Horseman wondering what the experience was like. 
"It's funny. They were fans. They got in contact with us and it's Christian's original demo actually. I think he tried to turn in a better quality version of that song. But, they were like, 'No, we like the demo.' So, what you hear is the first thing that came to his mind," Gleason said.  
Gleason also mentioned some of the songs that he enjoys playing live. 
"It sounds cliche and a little cheesy, but I think I enjoy playing all of them for different reasons. There are some songs that the fans bring to a different level live. Even though we might have played certain songs hundreds of times at this point, there's that thing that happens when there's a crowd of people singing along in unison that brings out a different emotion to the song. That connection can bring something to a higher level. At least it feels that way for me," Gleason said. 
Pretoria opened up for Grouplove. In the past, Pretoria has worked with Impact89FM, playing live shows in the studio and at the union.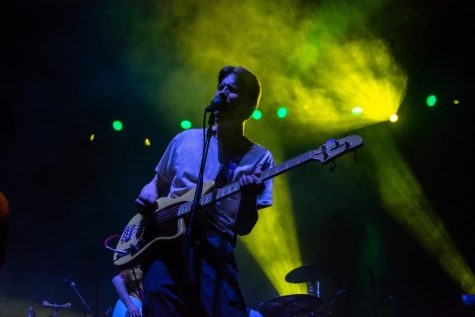 "It was a really cool moment for a lot of us to see them go from performing on a small stage into rocking at the Breslin Center," said Miller-Thomas. 
One member, Matt Burdick, is actually a returning MSU alumnus. He graduated from Michigan State University last year. It is always good to see a Spartan come back home.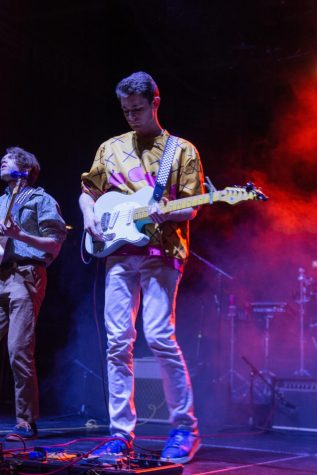 "Honestly, we all kind of feel like it was a lifelong dream come true to perform in a stadium like that, especially one with so many personal connections. I remember seeing the Impact 30th birthday concert at the Breslin in 2019 and thinking hopefully one day I could be up there on that stage. But, I never imagined it would be so soon," Burdick said
"During my first couple of years at MSU, I went to a lot of concerts in the Lansing area and they made me want to make music an even bigger part of my life. I wanted to write and perform as much as possible. I'm really excited by the idea that some first-year students might've seen us play Tuesday night and got inspired to start their own band afterwards. Most of all, I just feel honored to be part of something bigger than myself and hopefully have helped create a really good memory for a lot of people," Burdick said.
"Once you are a Spartan, you are always a Spartan. I talked to some of the concert attendees, and they felt Pretoria's presence gave the concert a personal and heartwarming touch,"  Ewell said. 
Pretoria's setlist for the night included, "Skinny Dip," "Certainly," "Gently," "Laundry," "Harvest Moon," and "Keep Two Stepping," which included a surprise mix with the cover of Soulja Boy's "Kiss Me Thru The Phone." At the end of their set, the members threw pieces of paper that they signed to the crowd and the lead singer took photos with their fans. 
It was not long until Grouplove took the stage. They wore matching black jackets with their group name embroidered in cursive red ink on the front. The band played songs such as "Ways to Go," "Deleter," and their biggest hit, "Tongue Tied." It seemed as if the whole event center shouted the lyrics during that song. Grouplove even played a song that they have never performed live called, "Shake That Ass."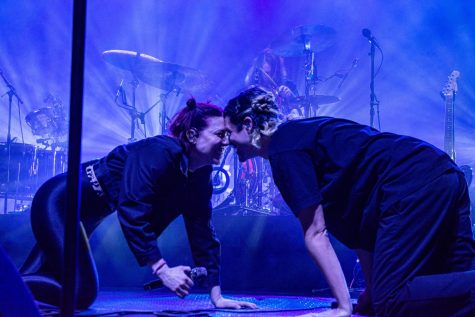 There were other fun moments during their show including one of the members throwing their guitar in the air and catching it, the two lead singers crawling on the ground towards each other playfully, and their main vocalist, Hannah Hooper, walking on top of the speakers to get closer to the fans. Hooper also held up a large camcorder and told the crowd that they were shooting footage for their next music video, announcing the audience would be a part of it. 
As Grouplove entertained the college crowd throughout the night, Hooper gave the students some advice. 
"Don't stress the little stuff. It's all about the friendships that you make," Hooper said.