MSU finishes second in NCAA Tournament regionals, advances to regional final
SEATTLE, Wash—Following a program-best 197.325 postseason team score in the second round of the 2022 NCAA regionals, Michigan State has advanced to the regional finals on Saturday, April 2 for the first time ever.
The Spartans, who finished second behind No. 5 Alabama, came in just ahead of Washington at 197.175 points and BYU at 196.625 points to advance in the tournament. The 197.325 scoring performance is the fourth-highest team score in any competition in program history. It's also the fifth time the Spartans have scored 197 or more points this season.
MSU's vault score of 49.200 broke the previous postseason program record of 49.075, set in 2009. The Spartans were led on vault by freshman Gabrielle Stephan, junior Nyah Smith and sophomore Baleigh Garcia.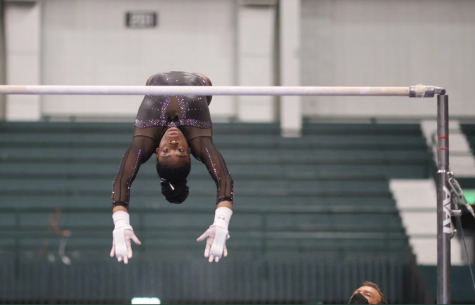 Six Spartans won event titles during the course of the meet; senior Ashley Hofelich and freshman Skyle Shulte tied with two Alabama competitors for first on floor. Schulte also finished second on beam with a score of 9.925, Stephan tied for third on both vault and beam.
Sophomore Delanie Harkness scored a 9.900, good for third place on bars.
Smith and senior Lea Mitchell put up back-to-back scores of 9.875 to give MSU the narrow edge over Washington. A 9.900 score by Harkess on the floor, combined with two 9.950 performances by Shulte and Hofelich, proved to be the difference in the Spartans' second-place finish. The two 9.950 showings by Shulte and Hofelich were the two highest individual scores for the Spartans on the night.
MSU, along with Alabama, will now wait to see who it will square off against in the regional final. The evening session includes Utah, Illinois, Oregon State and Stanford and the top two finishers will advance to square off against Alabama and MSU.
Whoever finishes in the Top 2 in the regional final will advance to nationals, set for April 14 in Forth Worth, Texas.