MSU struggles early, gets smacked by visiting Bowling Green 12-3
EAST LANSING – As the month of March concludes, Michigan State (11-9) was looking to rebound from a series home loss to Illinois as Bowling Green (3-16) came to town for a single game on Tuesday afternoon. 
After a much-needed 5-3 win over Illinois last Sunday to earn their first conference victory of the year, the Spartans re-entered non conference play facing a struggling Falcons ballclub. 
Since winning two of their first three games to open the season over St. Louis, the Falcons had lost 15 of their last 16 games and sat at 1-9 in Mid-American Conference play.
Despite facing a scuffling Falcon team, MSU was ambushed early Tuesday evening as it fell to Bowling Green, 12-3. The Spartans trailed from the first inning and struggled to mount a comeback as the Falcons scored 10 runs in the first five frames. 
The Spartan defense didn't make matters any easier, recording a season-high five errors. Two of those errors occurred in the top of the first inning.
With the loss, the Spartans dropped to 11-10 on the year and. Bowling Green, meanwhile, improved to 4-16 and recorded only its second win of March. It was also the Falcons' first Power Five win of the season.
For MSU, it was its fourth loss in the past five games.
Freshman pitcher Ryan Szczepaniak made the start for the Spartans and was immediately attacked by Bowling Green. With four runs in the first inning paired with two in the second, the Falcons held a 6-2 lead heading into the third inning.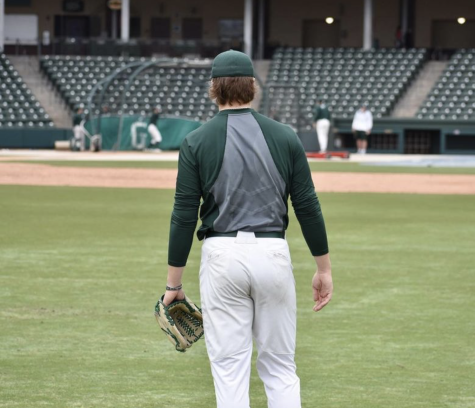 Szczepaniak's day ended early as he only collected four outs while giving up four earned runs, four hits, two walks and one strikeout. Junior left-hander Jack Brockhaus entered the ballgame in relief and gave up two runs on seven hits through 3 ⅔  innings pitched, topping his performance off with a season-high four strikeouts. 
With the loss, Szczepaniak dropped to 2-1 on the season and saw his season ERA fall to 5.57
Redshirt sophomore Brian Martin contributed effectively following Brockhaus in the sixth inning with two shutout frames before allowing two runs on the final batter he faced in the eighth. Sophomore Dominic Hann was MSU's final pitcher; he threw a scoreless ninth inning.
Every member of the Falcon lineup had at least one hit, contributing to 12 runs on 16 hits. Senior infielder Adam Furnas had his third straight three-hit game as he drilled a double and collected three RBI's in five at-bats to go along with two singles. 
After scoring two runs in the first two innings, the bats fell silent for MSU. The Spartans did not have a hit from the second inning until two outs in the sixth when sophomore Brock Vradenburg doubled to left center. The team would scrape together just two more hits the rest of the game en route to five total hits.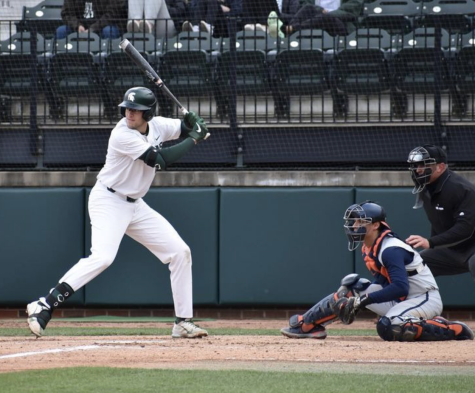 Bowling Green starting pitcher Peyton Wilson picked up his second win of the year after losing his last four starts. He threw five full innings, allowing two runs on two hits and four walks while recording two strikeouts. 
The Spartans scored in the eighth inning when Bowling Green transfer and current Spartan infielder sophomore Trent Farquhar drilled an absolute no-doubt home run to deep right field for his third home run of the year. He leads the team with a .321 batting average in 81 at-bats. 
MSU will look to rebound from Tuesday's disappointing showing as it welcomes in Youngstown State on Wednesday afternoon at 4:05 p.m.. The Penguins are currently 9-14 on the season and 2-1 in conference play. They were swept by West Virginia in a three-game set from March 24-25, but did beat Penn State 2-1 on March 22.