Michigan State's Gabe Brown hires agent, will not use extra year of eligibility
EAST LANSING, Mich— Michigan State senior forward Gabe Brown will not be returning to East Lansing.
44 Forever💚. #RIPDAD👼🏾❤️ #NEVERSETTLE pic.twitter.com/JZOBoKTdj4

— Gabe Brown (@_Going_Pro_) March 28, 2022
Brown has hired agents Steve Haney and Pedro Power of Parlay Sports and will not use his extra COVID-19 year of eligibility. He is one of three senior forwards for the Spartans who may decide to go pro, alongside Marcus Bingham Jr. and Joey Hauser.
A captain, Brown led the Spartans in scoring with 11.6 points per game on 42.8% shooting. He established himself as one of the teams best scoring options from 3-point range, shooting 38.2% from deep this season. In the Spartans' 85-76 loss to Duke in the Round of 32, he led the team in scoring with 18 points on four made 3-pointers. He also had 12 points on three made 3-pointers in MSU's 74-73 Round of 64 win over Davidson.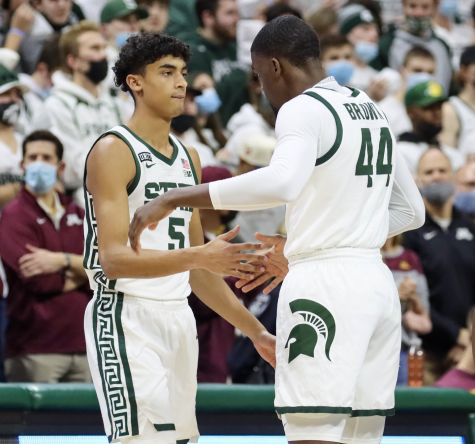 A four year contributor at MSU, Brown was named as an All-Big Ten third-team selection after starting in all 36 games for the Spartans and scoring in double figures 26 times. Despite suffering a mid-conference slump in February that saw him score more than 10 points in only one of eight games, he finished the season on a high note, scoring 10 or more points in eight of the teams final nine games.
Overall, Brown appeared in 124 games over a four-year span for the Spartans and started in 57 career games while helping contribute to a Final Four appearance and two Big Ten regular season titles . He averaged at least 6.8 points a game from his sophomore season on and averaged at least 20 minutes a game in each of the past three seasons.
A potential 3-and-D prospect at the next level, Brown shot at least 37% from deep in three out of his past four seasons at MSU and made 73 this season, by far the best mark on the team. He also established himself as an excellent free throw shooter, knocking down over 88% of his free throws in each of the past three seasons.