Merchant adds former Clemson starting guard Gabby Elliot via transfer portal
EAST LANSING, Mich—On Friday afternoon, Michigan State coach Suzy Merchant bolstered the 2022-23 roster with the addition of transfer guard Gabby Elliot. Elliot, an incoming junior, spent her first season at Clemson and was a high school teammate of current MSU starting guard Deedee Hagemann at Detroit Edison.
I'M BACK💚 pic.twitter.com/g4SNLBiSAP

— Gabby (@gabbyy5_) March 25, 2022
Elliot, like her teammate a year after her, was named as the 2020 recipient of Michigan Miss Basketball award and was also named as the 2020 Michigan Gatorade Player of the Year. Her brother, Greg, currently plays for Marquette basketball.
As a freshman, Elliot was second on the team in scoring with 13.6 points per game (on 44.8% shooting) and third in rebounding (five a game). She was named to the ACC-All Freshman team and appeared and started in 25 games. She also averaged 26.4 minutes a game had 18 double-digit scoring performances and led the team in steals with 32.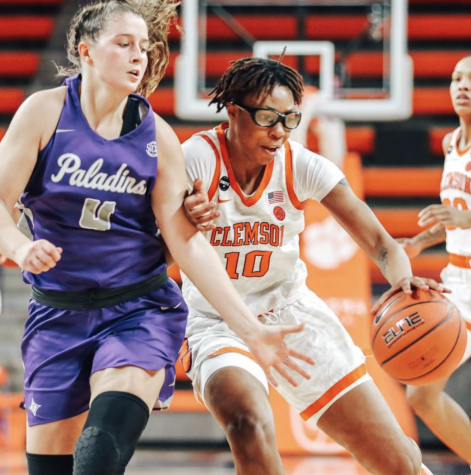 This season, she averaged 9.4 points a game and 2.8 rebounds on 35.6% shooting from the floor in 12 games (10 starts) before entering the transfer portal on Feb. 4, 2022. Elliot was a top-50 recruit in the 2020 class and was graded as a five-star by ESPN. In addition to Clemson, she had offers from several major Power Five schools including Maryland, Minnesota, UNC, Pittsburgh, and Marquette.
Elliot will bring starting experience to a backcourt that is losing leading scorer, All-American and captain Nia Clouden. The Spartans are set to return Hagemann and forwards Matilda Ekh, Julia Ayrault, Tory Ozment, Isaline Alexander and Taiyier Parks. Elliot will have three years of eligibility remaining.