Jebb receives Big Ten Player of the Week honors
EAST LANSING, Mich— After helping Michigan State notch two wins against Cincinnati and Western Carolina over the weekend, Spartan sophomore infielder was named as the Big Ten Player of the Week. It's the first time Jebb has won the award in his career.
During MSU's 10-8 come-from-behind win over Cincinnati on March 11, Jebb hit two home runs, including a walk-off two-run blast. Overall, he finished 3-for-4 with four RBI's and two runs scored against the Bearcats. It was MSU's first walk off home run since redshirt junior Peter Ahn's game-winning blast against Merrimack on Feb. 23, 2020.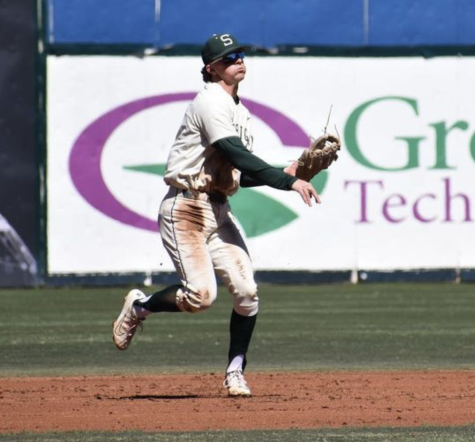 The next day, in a 5-2 win over Western Carolina, Jebb went 2-for-5 with a double. He also notched a single and a walk in the Spartans' 4-2 loss to Clemson on March 9 and a single, RBI and run scored in MSU's 13-7 loss to Kansas on March 13.
Jebb went a combined 7-for-17 during the week, good for a .412 batting average. Dating back to last season, he is currently in the midst of a 21-game hitting streak, tied for the third-longest hitting streak by any Spartan over the past 20 years.
The Spartans are currently 7-7 on the season and are set for their first home series of the season as they welcome in Houston Baptist for a three-game set beginning this Friday at 4:05 p.m. MSU will play its next nine games at home (against Houston Baptist, IPFW, Illinois, Bowling Green and Youngstown State) before heading back out onto the road to take on Evansville on April 1-3.