Spartan goalie Drew DeRidder named as All-Big Ten honorable mention selection
EAST LANSING, Mich— Michigan State senior hockey goaltender Drew DeRidder received All-Big Ten honorable mention honors on Tuesday afternoon. He was the only Spartan to receive Big Ten honors.
DeRidder, a senior who is currently in the transfer portal, appeared in 25 games for the Spartans during the 2021-22 season and amassed nine wins. He also set a career high with 799 saves in 1448 minutes played. Overall, DeRidder registered a 2.95 goals against average mark and had a 91.8 save percentage. He also had four games this season where he registered at least 40 saves, including against Wisconsin twice in a home sweep on Nov. 19-20.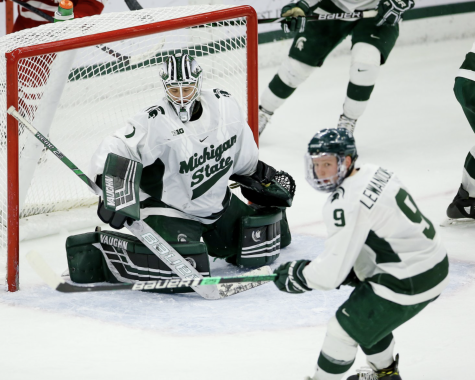 In the Spartans' 5-2 win over Wisconsin on Nov. 20, DeRidder compiled a season-high 48 saves after saving 40 shots the previous night in a 3-2 win.
For his efforts against Notre Dame on Dec. 11 and UMass Lowell on Oct. 22, DeRidder received Big Ten Star of the Week honors twice. In his MSU career, he appeared in 70 games, had a 2.95 goals against average mark to go along with a 91.6 save percentage.
He helped to anchor a rather inexperienced Spartan team that ended the season with a 12-23-1 overall record as well as a 6-18-0 Big Ten record. MSU lost 15 of its final 16 games to end the season, including a two-game sweep at the hands of Michigan in the first round of the 2022 Big Ten tournament.