Spartans earn No. 7 seed in West Region, will square off against Davidson on Friday
EAST LANSING, Mich— Michigan State will open the 2022 NCAA Tournament against Davidson on Friday, March 13 in Greenville, South Carolina.
The Spartans, who ended the regular season at 22-12, were named as the No. 7 seed in the West Regional while Davidson was named as the No. 10 seed. The Wildcats are led by former MSU point guard Foster Loyer; he is their leading scorer at 16.6 points per game. Loyer is also connecting on 45% of his 3-point attempts.
Davidson is coming off a 64-62 loss to Richmond in the Atlantic 10 championship game. The Wildcats ended the regular season with a 27-6 overall record (15-3 conference record) that includes two quadrant one wins and four quadrant two wins. They also defeated Alabama and VCU in their non-conference slate.
For MSU, it is the 24th straight NCAA Tournament appearance, the second-longest streak in the country behind Kansas. The Spartans notched 13 Quadrant 1 and 2 wins over the likes of Purdue, Wisconsin (twice), UConn, Loyola-Chicago and Michigan to earn the No. 7 Seed.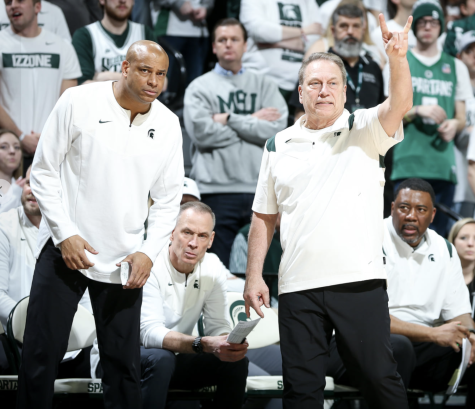 The Wildcats are led by 32nd year head coach Bob McKillop. McKillop has led Davidson to 10 NCAA Tournament berths, including this year, and an Elite Eight appearance during the 2008 tournament.
Gonzaga earned the No. 1 seed in the West Region (and the No. 1 overall seed) while Duke earned the No. 2 seed. If the Spartans can knock off the Wildcats, they will either face the Blue Devils or Cal State Fullerton. Izzo is 3-12 all time against Mike Krzyzewski, but has won each of the past two meetings between the two Hall of Fame coaches. It is also the final season for Krzyzewski, college basketball's all-time winningest coach.
The Spartans knocked off Duke in the Elite Eight 68-67 in the 2019 NCAA Tournament en route to Izzo's eighth final four.