MSU F Mitchell Lewandowski signs with Tucson Roadrunners
EAST LANSING, Mich — The Tucson Roadrunners have signed Michigan State forward Mitchell Lewandowski to a professional tryout contract effective immediately, according to a press release issued on Friday afternoon. 
Lewandowski is the second Spartan this week to sign a professional contract after senior defenseman Dennis Cesana signed a two-year contract with the Florida Panthers on Tuesday. 
He will join the Roadrunners, the American Hockey League affiliate of the Arizona Coyotes, after playing five seasons at MSU. During his tenure, Lewandowski scored 56 goals and had 65 assists for 121 points in 154 games played.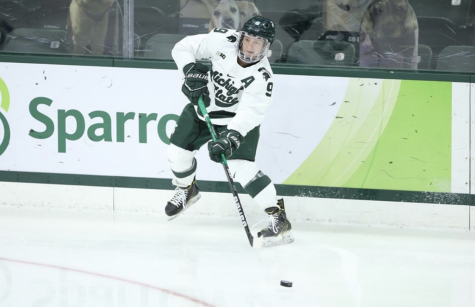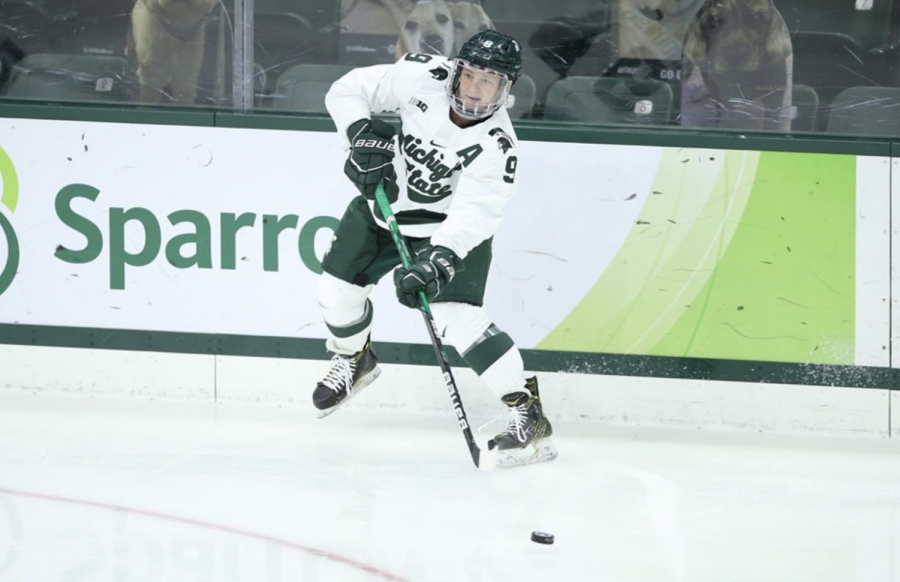 After a low production season in 2020-21, scoring only six goals and eight assists, Lewandowksi used his extra year of eligibility to return to the Spartan lineup to provide some stability to a team that had seven new players. He had points in 12 out of 15 games before a nagging injury sidelined him at the beginning of 2022. 
After not missing a game for four consecutive seasons, the Clarkston, Michigan native missed the first game of his career on Oct. 23 at UMass-Lowell, starting a string of five consecutive games missed. He would later miss 10 straight games to start 2022 with the Spartans losing all of those contests. MSU went 1-14 this season without Lewandowski in the lineup. 
After appearing to be on pace to break his season scoring record, Lewandowski finished his final season with seven goals and 12 assists for 19 points. The totals were better than his 2020-21 season, but were well away from his career-high 34 points he set his freshman year and tied again his sophomore year. 
He was voted as the Big Ten freshman of the year and was voted as a unanimous selection to the Big Ten All-Freshman team after scoring those 34 points, 19 of which were goals. Lewandoski would subsequently receive conference honorable mention selections as a sophomore and junior. 
Prior to the season, Lewandowski was an All-Big Ten honorable mention selection and was nominated as an assistant captain for MSU this season. He scored his 50th career goal in the regular season opener against Air Force and had the longest point streak of his career this season.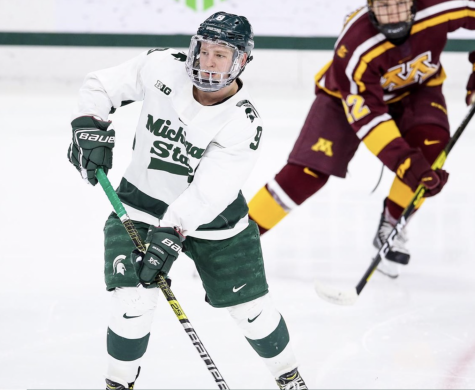 Lewandowski also became the last member of the "KHL" line to score 100 career points. The line, which consisted of Lewandowski and former Spartans Taro Hirose and Patrick Khodorenko, was the Spartans' top scoring line in Lewandowksi's first two seasons. Hirose is currently playing for the Grand Rapids Griffins, the AHL affiliate of the Red Wings.
His 100th point came in the 2020-21 season with an assist against Wisconsin in the regular season finale. He is the 17th Spartan to reach 100 career points since 2000, and the 71st Spartan to achieve the feat in program history. 
Lewandowksi will be in the lineup for the Roadrunners Friday Night as they take on former Spartan defenseman Jerad Rosburg and the Texas Stars in Cedar Park, Texas.