MSU D Dennis Cesana signs two-year deal with Florida Panthers
EAST LANSING, Mich—The Florida Panthers are signing Michigan State defenseman Dennis Cesana to a two-year AHL contract beginning in the 2022-23 season, according to a press release Tuesday.
Cesana, 23, served as MSU's captain this past season. Over a four-year career of 135 games, he posted 74 career points (20 goals, 54 assists).
The Providence, Rhode Island, native will join fellow Spartan senior blueliner Cole Krygier in the Panthers' prospect pool. Krygier was drafted by Florida in the seventh round of the 2018 NHL Draft, but has not yet signed a contract.
He was named to the Big Ten Honorable Mention All-Star team in 2020-21, the Big Ten Second All-Star team in 2019-20 and the Big Ten All-Rookie team at the conclusion of the 2018-19 season.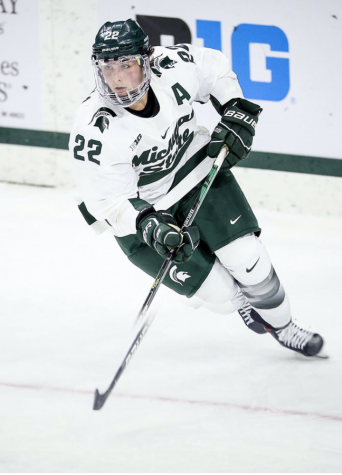 This season, he was fifth on the team in scoring with 16 points and set a new career high with eight goals scored. He was also third on the team with 72 total shots taken, just behind forward Erik Middendorf and Jeremy Davidson.
In 2020-21, Cesana led the team with 10 assists. This was also tied for the seventh-most assists among defensemen in the conference. He also had 12 points, the second-highest mark on the team.
One of Cesana's best seasons statistically wise occurred as a sophomore when he compiled 22 points, 15 of which came on assists. His 22 points was the third-best mark among all Big Ten defensemen; he also scored seven goals.
As a freshman, he had 21 assists to go along with 24 points. Cesana's 21 assists was the second-most among all rookie defensemen in the country and the sixth-most among all players.
Since Michigan State's season is now over, Cesana will now join the Charlotte Checkers, Florida's AHL affiliate, on a professional tryout contract.