Two-time First-team All-Big Ten selection Nia Clouden declares for 2022 WNBA Draft
EAST LANSING, Mich – After four seasons at Michigan State, guard Nia Clouden has officially declared for the 2022 WNBA Draft. Clouden confirmed the announcement via her Twitter account on Tuesday afternoon.
Thankful💚 pic.twitter.com/dSG0lRn47H

— Nia🧞‍♀️ (@NiaClouden) March 8, 2022
Her four-year span saw her start in 117 games, never missing a game due to injury, as well as averaging at least 12 points per game in every season. She also helped lead the Spartans to two NCAA tournaments and 34 conference wins.
This past season, Clouden led MSU and finished fourth in the Big Ten in scoring with 20 points per game and finished second in assists on the team with just over four per game. Her 601 points this season brought her to fifth all-time in single-season scoring at MSU.
On Dec. 20, 2021, Clouden scored a career-high and program record 50 points in an 85-84 loss to Florida Gulf Coast. She became only the fifth woman in the state of Michigan to ever score at least 50 points in a single collegiate game.
Clouden finishes her MSU career second all-time in career points at Michigan State with 1,882. She trails only Tori Jankoska, who had 2,212 in her time at MSU.
Clouden was recently named a 2022 First Team All-Big Ten Selection, the second year in a row she has received that honor. She was also named as a second-team All-Big Ten selection in 2020 and an All-Big Ten honorable mention selection in 2019. 
In 2020, Clouden led the team in scoring and minutes played with 18.7 points to go along with 33.2 minutes on average. She also shot 78% from the free throw line, the best mark on the team.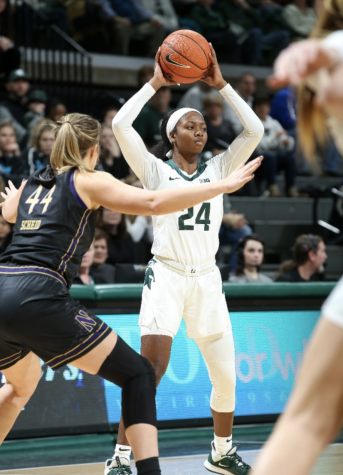 The 2019-20 season saw her average nearly 31 minutes a game and 14.5 points per game, once again the best mark on the team. Clouden also averaged four rebounds a game and shot nearly 83% from the free throw line.
As a freshman, she was third on the team in scoring with 12 points per game to go along with a 36.8% 3-point shooting percentage in 33 starts. She helped lead the Spartans to a 21-12 record that included an NCAA tournament berth and an 88-87 Round of 64 victory over Central Michigan.
Clouden was also named to the Wooden, Wade and Naismith Award watch lists in 202;  those national awards are given annually to the best player in the country.
She is widely projected as an early first round selection in the WNBA Draft which will be held on April 11 at 7 p.m.