Spartans fall behind early, fall to Ohio State 74-58 in second round of Big Ten Tournament
INDIANAPOLIS, IN – After a thrilling 73-69 win over the No. 9 seed Purdue Boilermakers on Thursday, Michigan State returned to Gainbridge Fieldhouse on Friday for a quarterfinal showdown with the No. 1 overall seeded Ohio State. But on this day, Michigan State dug themselves a hole they simply couldn't climb out of en route to a 74-58 defeat.
"Hard pill to swallow today, but you'll never live your best day on a basketball court, and that's what these guys have to remember," MSU coach Suzy Merchant said. "This is part of their journey, but it's not all their journey, there's much more ahead for them."
MSU got off to a very slow start in this one, committing five turnovers in the first five minutes. Ohio State's Rikki Harris was blazing hot to start the game. The redshirt sophomore guard had eight of the Buckeyes' first ten points on 3-for-4 shooting as the Buckeyes held an early 10-4 advantage.
Coming into this matchup, Ohio State forced a conference-leading average of 19 turnovers per game, and the Buckeyes looked like a team that was well-rested coming off of the double bye. The Buckeyes played a full-court press all game long and that defensive strategy caused all sorts of problems in the opening quarter for the Spartans, including forcing nine first quarter turnovers. 
OSU also shot 47% (7-for-15) in the opening frame and put the Spartans in a significant early hole, leading 22-8.
"Early on, we were ready for their press, but we just didn't handle it well," Merchant said. "Early on, when you get turnovers for touchdowns and (the Buckeyes) get going at the pace they play, it's hard for us to sometimes keep up."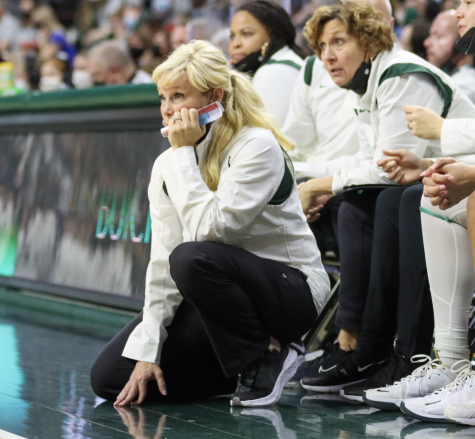 Ohio State continued to pour it on in the second quarter, extending the lead to 17 points with 5:37 remaining in the first half. Ohio State senior guard Taylor Mikesell, who came into Friday averaging 19.1 points per game, paced the Buckeyes with 13 points. Harris, who cooled off a little bit in the second quarter, was right behind her with 11.
For MSU, Nia Clouden had a very quiet first half as she only scored two points on 1-for-6 shooting. It was clear from the start that Ohio State made Clouden a priority on defense and without Clouden in any sort of rhythm, the Spartans suffered on the scoreboard.
"It wasn't our night, scoring the ball has been a little bit of an issue at times for us and it just wasn't our night," Merchant said.
MSU senior forwards Alisia Smith and Tamara Farquhar, as well as freshman point guard DeeDee Hagemann, led the Spartans at the break with six points each, but Ohio State continued to shoot the lights out. At the break, the Buckeyes were 50% (15-for-30) from the floor and held a commanding 44-29 advantage.
Out of the locker room, the Spartans fought back. Freshman Matilda Ekh knocked down two 3-pointers within less than a minute of each other in the third quarter, and for the first time all game, it seemed everything was going the Spartans way. 
"The game plan was the same and I feel like we did a pretty good job for the most part, we just had a slow start, so we had to fight our way back the whole game," Ekh said.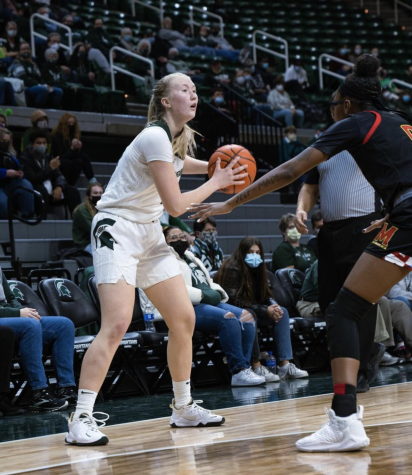 Clouden nailed a pull-up jump shot with just over five minutes remaining in the quarter to bring the Spartans back within single digits for the first time since the opening minutes, trailing 48-39. 
However, MSU couldn't convert on some crucial opportunities on the offensive end to get even closer on the scoreboard. This allowed the Buckeyes to regroup and continue to keep their distance on the scoreboard throughout the rest of the quarter, entering the final frame with a 57-48 lead. 
Ekh continued to light it up in the fourth quarter, proving that she indeed had snapped out of her season-ending scoring slump. She was 5-for-11 from behind the 3-point arc in the game and had a team-high 21 points. Hagemann made an incredible behind-the-back layup in transition with 4:17 remaining in regulation to bring the Spartans within six, trailing 64-58.
Ohio State went into an almost three-minute scoring drought in the fourth quarter in which it went 1-for-11 from the floor. The Buckeyes would subsequently snap out of this drought in a big way, going on a 10-0 run in the final three minutes to put the game on ice. 
The Buckeyes finished with four players in double figures as junior guard Jacy Sheldon led them with 19 points, Mikesell had 18, graduate forward Tanaya Beacham put up 15 and Harris ended with 14 points.
Ekh led the Spartans with 21 and was the only Spartan in double figures. Hagemann added nine points of her own while Clouden struggled, only scoring seven points on 3-for-11 shooting. 
"I watched (Hagemann and Ekh) and all the freshmen mature over the season," Clouden said. "We've had a lot of adversity, they've had to grow up really fast so I think when next year comes and then their three years to follow, they'll be handling it with no problem."
Ohio State moves to 23-5 (14-4) and advances to the semi-finals to take on the winner of the Indiana-Maryland quarterfinal game. Michigan State's season ends at 15-15 (8-9) and will attempt to see if they make the WNIT.
"I've coached a lot of great players, won championships and had great postseason opportunities," Merchant said. "This team, by far, is my number one favorite team because they handled all of the adversity with such class."
Clouden also confirmed in the postgame that she hasn't made up her mind about declaring for the WNBA Draft or not. She has one more year of eligibility due to the COVID-19 pandemic waiver if she wants it.