McClarren: MSU has one final shot to show something positive on Saturday night
EAST LANSING, Mich. — Murphy's Law says that anything that can go wrong, will go wrong. For Michigan State, that has been the case since the turn of the calendar year and was on display in tonight's 5-3 loss. 
The Spartans were 11-8-1 heading into New Year's Eve after beating then No. 19 Michigan Tech at home in the second game of the Great Lakes Invitational. The Spartans had taken five out of a possible 12 points on the road in December against conference opponents and had some convincing wins in their non-conference schedule against Miami, Air Force, and Ferris State. 
However, as Murphy's Law states: Anything that can go wrong, did. 
Michigan State had a 3-1 lead heading into the third period of tonight's game. The Spartans got goals from the people they needed them from. Forward Josh Nodler scored the Spartans' first goal on the power  play for his sixth of the year. David Gucciardi and Erik Middendorf got on the board in the second period, including Middendorf's breakaway goal with six seconds remaining in the period.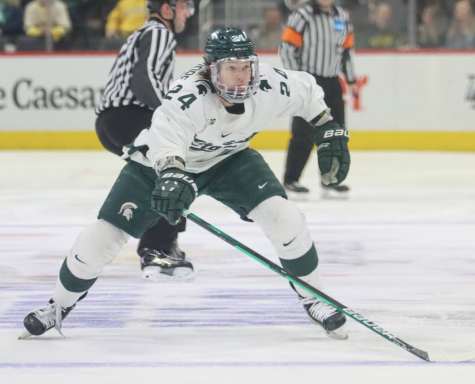 Then, the breaks blew off. 
Penn State forward Adam Pilewicz scored early in the third to make it a one-goal game; an egregious turnover by Jesse Tucker saw Nittany Lion defenseman Paul DeNaples get a wide-open chance in the slot, which he capitalized on. Connor MacEachern would score on the power-play after Spartan junior Jagger Joshua took a cross checking call. An empty net goal saw Penn State skate away with a 5-3 victory and extended the Spartan losing streak to 13 games. 
Michigan State was, at one point in the season, receiving votes in the USCHO poll. A lot has changed since then. Injury troubles and lack of depth scoring have haunted MSU in 2022 and effectively prompted them into the 13-game tailspin. 
The Spartans have seven seniors they will honor tomorrow night, and the effort they showed through two periods will need to be on display if they want a chance to break the streak. The effort has been there, but the Spartans have yet to play a full 60 minutes this season. 
Michigan State has shown signs of life, but it hasn't been consistent enough to come away with those much-needed results. Needing to win three of its last four games against two teams that they took points from early in the season, the Spartans have lost three of them and solidified their last place finish in the Big Ten for the second consecutive year (and four out of the past five years. 
Where to go from here
The Spartans have been slightly better since getting swept by Michigan two weeks ago, but have failed to get the results. MSU will need to put the lessons its learned over the past few weeks on display against a Penn State team that is still jockeying for positioning in the Big Ten. 
MSU has 60 minutes tomorrow to send off its seniors with a win, or at least a point if they can take Penn State to overtime. The Spartans will be playing their last game at Munn Ice Arena this season and have a chance to send the home crowd happy for the first time since that 3-2 overtime victory against Michigan Tech.