Impact Highlights | Black artists in Alternative and DIY Music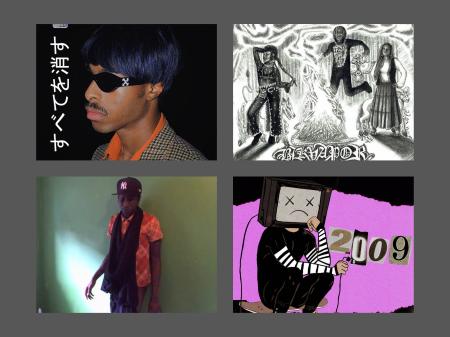 What do you picture when you think about punk and alternative music? For many of us those words conjure images of basement shows, Warped Tour and suburbia. While DIY, punk and alternative music serve as a safe haven for many, these genres have long been dominated by white artists despite originating from Black musicians. However, the rise of the internet, social media and platforms like Bandcamp have made it easier to discover the diverse artists driving the modern punk and alternative scene. From noise pop to pop punk, here is a list of Black alternative musicians who we love and think deserve some more spotlight.
BLKVAPOR
From softer tracks like "PROXY" and "FOXGLOVE" to the fuzz-filled, rumbling sounds of "DRAGONSLAYER," BLKVAPOR pulls influences from across the DIY Punk mastery. Self described as an all Black and trans rock band from Baltimore, Maryland, BLKVAPOR takes their influences from noise rock and emo. Their lyrics and vocal performances cut deep, providing a glimpse of the emotions written into each track. "DOOMSCROLL" in particular showcases a sense of hopelessness and serenity that can only be found while scrolling through your phone until falling asleep. While BLKVAPOR's debut EP, Vaporising, was released less than a month ago, they've already performed multiple bills with pop punk rising stars Pinkshift. If you're following the east coast DIY scene, this band is one to keep your eye on.
Fade 'Em All
Short, loud, anti-establishment lyrics and mosh pits are elements that encompass the garage punk scene. The music for the sound of anarchy and the anti-government sentiment is embedded in punk culture and runs deep, especially within the Afropunk scene. Fade 'Em All is a fist-bumping outfit that brings to life the forgotten Black culture of Houston, TX. After making it to the finals at AFROPUNK's Battle of the Bands, they put out their first self-titled album. Their music is short, hard-hitting, with super-fast guitars that make you feel like you're right in the center of a mosh pit. You can hear some influence from bands like the Sex Pistols and the Ramones, but their lyrics and sound are quite unique. The song "Leaders" has some awesome samples which tie in well with the lyrics, and the beat switch to the fast guitars makes the song so addictive.
Two years after their album debuted in 2018 they released another song, "ACAB Freestyle," in the wake of the Black Lives Matter protests and murder of George Floyd. The song does not disappoint with another excellent guitar riff and vocals that make the mic sound like it's on its last legs.
LA Timpa
Nigerian-Canadian multimedia artist LA Timpa is extraordinarily dynamic in his sound, gracefully dancing between dense sound collage to delicately dissonant, tear-laden guitar ballads ala Xiu Xiu to somber, relaxed ambient. But his artistry does not stop with his music with a diverse set of work in every medium except literary as far as I know, with him directing and recording all his own music videos. All of his music is certainly worth checking out, but his most recent album, Modern Antics in a Deserted Place, synthesizes most of his artistic tropes to form a beautifully cohesive work despite many of the element's total incompatibility. Tracks of note: "Quarterback," "Pomisea," "Wicked" and "Deaf in Three Corners"
Magnolia Park
Who says pop punk is dead? Magnolia Park, the five-piece Orlando-based band, begs to differ. Magnolia Park's goal is to redefine pop punk for the modern era, both sonically and demographically. Pop punk has been a white-dominated genre for decades, with those classic, ghoulishly-pale teen heartthrobs at the helm. Frontman Josh Richards takes inspiration from classic pop punk acts like A Day to Remember and Neck Deep and incorporates modern influences, like the backing trap beat on their single "I'll Give You The Stars." In another modern twist, the group has taken to TikTok to gain online notoriety and made serious strides. Their song "10 for 10" went viral on the platform and helped them garner a wider audience. Their debut studio album Halloween Mixtape contains many of their viral songs, including "Liar" and "Sick of it All." Since blowing up online, they've acquired over 330k followers and attention from major players in the scene. In late 2020, they released a single, "Love Me," with Sleeping With Sirens' Kellin Quinn. Coming up in the spring of 2022, they secured their first nationwide tour with major pop punk icons Sum 41, Simple Plan, and Set It Off. Check out Magnolia Park and get in on the ground floor before they sweep the alternative charts.