Spartans look to snap 12-game skid as Penn State comes to town
EAST LANSING, Mich—Let's play a game. I'm going to describe a Big Ten hockey team; you guess who I'm talking about.
After a decent start to the season, this team finds themselves near the bottom of the standings after a horrendous 2022. They've struggled to play consistently all year. For example, earlier this season, they had a big early lead at home against Minnesota, but proceeded to lose after letting the Gophers score six times over the course of the game. Their offense has also struggled to get anything going as of late. They've only scored more than two goals once in their past six games.
While I am talking about Michigan State, all of the above also applies to its opponent this weekend: the Penn State Nittany Lions.
In case you haven't been paying attention, Michigan State (11-20-1, 5-17-0 Big Ten) has lost a lot. Last week's sweep at the hands of Notre Dame gave MSU its 12th consecutive loss, two short of the program record last set in 1955-56. 
"You want the guys to be a little ticked," MSU head coach Danton Cole said of his team's mentality this week. "You want a little bit of urgency, and you want a little bit of anger…We can't change [the past losses], but we can change going forward."
The Spartans have two more chances to break that streak this weekend. With Saturday  being the last home game of the year, the team will also honor its graduating players on Senior Night following the contest. Those seniors not expected to return next season include goalie Drew DeRidder, forwards Cole and Christian Krygier, Mitchell Lewandowski, Adam Goodsir and defensemen Dennis Cesana and Mitchell Mattson.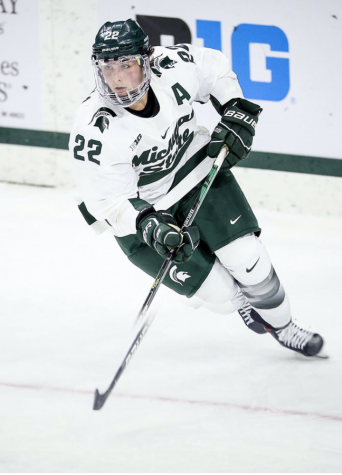 Penn State (14-17-1, 5-16-1 Big Ten) has had almost as rough of a 2022 as the Spartans. The Nittany Lions also have three total wins in the calendar year: one at Army and two at Wisconsin (they also beat Ohio State in a shootout, but that goes down as a tie in the league's eyes).
The reason for Penn State's lack of success this year is two-fold. First, the team cannot put the puck in the net. Despite averaging an NCAA-best 39.0 shots per game, the conversion rate is in the bottom ten. Their 8.1 shot percentage is tied with 3-28-1 St. Thomas.
Second, the Nittany Lions have not gotten good goaltending all year. The tandem of Oskar Autio and Liam Souliere have been inconsistent at best. They have allowed six or more goals in three of their last five games. In a conference as loaded with talent as the Big Ten, teams with a save percentage as low as PSU's (.888) are highly unlikely to succeed.
On the other hand, the backstopping for Michigan State has been solid, but not as otherworldly as it was at the beginning of the season. Both DeRidder and Pierce Charleson's counting stats have taken a hit, but the defense certainly has not been giving them much support. Quality of shots aside, the Spartans allow 36.7 shots on goal per game, which is the most in the Big Ten and second-most in the country.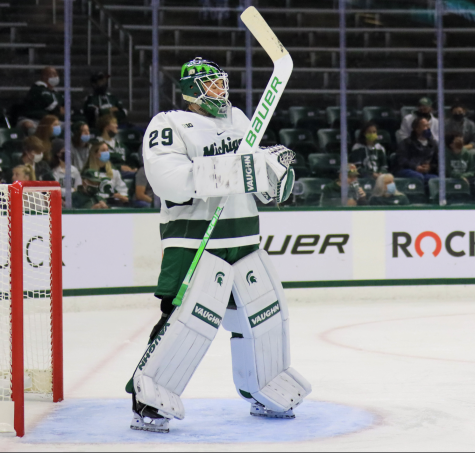 Head coach Danton Cole has repeatedly harped on consistency as something his team needs to play with in order to break their current streak. That inconsistency rears its head the most in the second period. On the season, Cole's Spartans have been outscored 39-20 in the middle frame, by far their worst margin. 
If Michigan State wants to break this losing streak, avoid tying the worst one in school history, and send its seniors out with a win, it will need to have every player on their game for the entire 60 minutes.
"Winning cures an awful lot of problems," Cole said. "The guys threw a lot at it on Friday. Saturday night wasn't horrible, but we needed a few more guys joining in a little bit earlier…It's close, but there's no column for moral victories."