Ekh receives Freshman of the Week honors for the third time
Manit Patel, General Assignment Reporter
February 21, 2022
EAST LANSING, Mich—Michigan State basketball freshman Matilda Ekh received her third Big Ten Freshman of the Week award on Monday afternoon. She shared this week's award with Nebraska forward Alexis Markowski.
Ekh scored a game-high 25 points in the Spartans' 74-67 win over Wisconsin at the Kohl Center on Feb. 16. Ekh was 8-for-11 from the field against the Badgers, including a 5-of-7 performance from beyond the 3-point line. She added two rebounds and three assists in the MSU road victory.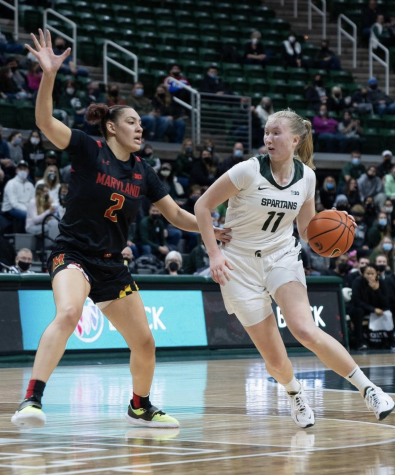 Ekh has stepped into a major role following the departure of former starting guard Alyza Winston. Ekh is second to senior guard Nia Clouden in minutes and while helping to take the scoring load off of Clouden, Ekh is becoming a key distributor alongside Clouden and fellow freshman DeeDee Hagemann.
Through 25 games and starts for the Spartans this season, Ekh is averaging 12.2 points per game, while adding 2.1 assists and 3.2 rebounds. She is also shooting 45.9% from the floor, 43.6% from 3-point range and 80% from the free-throw line. 
It's the first Freshman of the Week award that Ekh has received since Jan. 24. Her first award win came over the week of Dec. 13, 2020.
The Spartans, after losing to Penn State 79-71 on Monday evening, have two final regular season games against No. 6 Michigan and No. 17 Ohio State before the Big Ten tournament begins on March 2.