Spartans drop out of Top 25 for first time since December
Manit Patel, General Assignment Reporter
February 21, 2022
EAST LANSING, Mich- Following its first two-loss week of the season, Michigan State  (18-8, 9-6) fell out of the Top 25 of the weekly AP poll Rankings, becoming unranked for the first time in 12 weeks.
The Spartans are currently the team receiving the most votes out of the Top 25 of the AP poll; five Big Ten teams are currently ranked in the Top 25 of the poll. Purdue (No. 4), Wisconsin (No. 13), Illinois (No. 15), Ohio State (No. 22) and Iowa (No. 25) represent the Big Ten in the Top 25. Rutgers also received 35 ranked votes after knocking off No. 15 Illinois 70-59 before falling to No. 4 Purdue 84-72 on Feb. 20.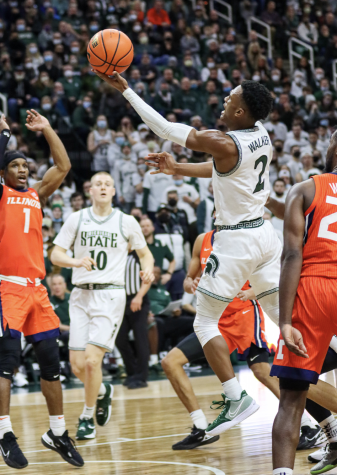 MSU is now ranked No. 28 in the NET, the ranking set the NCAA uses to help determine postseason seeding. The Spartans feature nine Quadrant 1 and 2 wins, with only one Quadrant 3 or 4 loss. Out of MSU's eight losses this season, five are currently against teams in the top 15 of the AP poll.
The Spartans have an opportunity to re-enter the Top 25 when it faces No. 25 Iowa and No. 4 Purdue this upcoming week. The Spartans are set to travel to Iowa City to face the Hawkeyes Tuesday. Following the matchup with Iowa, the Spartans face No. 4 Purdue for the first and only time this season at home on Jan. 26.