Previewing MSU women's basketball vs. Penn State
The Michigan State women's basketball team is set to face off against Penn State on Monday. The Spartans are coming off a 74-67 win over Wisconsin. 
Against the Badgers, MSU forward Matilda Ekh scored 25 points while dishing out three assists and grabbing two rebounds. Forward Alisia Smith added 12 points with four rebounds. Additionally, guard Nia Clouden finished with 12 points, eight assists and three rebounds.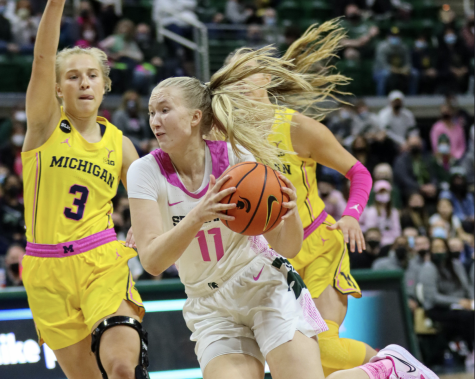 The Spartans shot 56% from the field and 46% from beyond the arc. MSU outshot the Badgers by six shots from the field but were outhandled from the 3-point line. 
The team did a great job protecting the basket with a total of 30 rebounds, 12 of which were offensive. 
For the Badgers, center Krystyna Ellew finished with 19 points, while forward Halle Douglass ended with 18. 
Wisconsin shot 22-of-24 from field-goal range and 14-of-24 from 3-point land. The Badgers struggled throughout the game with turnovers. The team ultimately finished with 18 turnovers and only five offensive rebounds. 
Penn State has struggled during the second half of the season. It had faced a seven-game losing streak until beating Nebraska on Thursday. 
The Nittany Lions stand in 11th place in the Big Ten. At home this season, they have gone 7-5, while only winning two games on the road.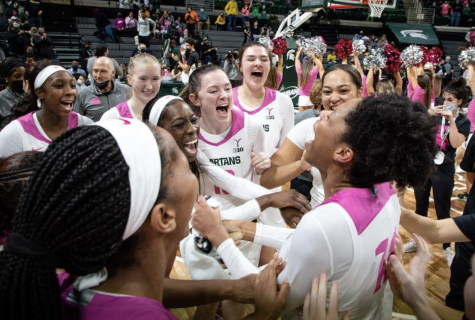 Guard Makenna Marisa was the leading scorer for Penn State with 22 points, eight assists and six rebounds. Guard Kelly Jekot added 13 points for the Lions, with Niya Beverley also scoring 12. 
Penn State shot 30-of-66 from the field, while only shooting 40% from 3. Nebraska, on the other hand, outrebounded Penn State by a total of 10 rebounds. 
Nebraska had a total of 46 rebounds, while Penn State only had 36. 19 of those boards for Nebraska were offensive, while Penn State had 13 offensive rebounds. 
The Spartans will have to figure out how to stop Penn State for their offensive efficiency. Penn State has the eighth-leading scorer in the country in Marisa. Currently, she is averaging 22.4 points per game. 
The matchup between the two teams is set for 6 p.m. at the Breslin Center on Monday.