Weekend Recap: Spartan gymnastics makes history
East Lansing- The No. 15 Spartans took the mat looking for their second win of the weekend after coming out on top against Western and Central Michigan on Friday.  Despite trailing after the first two rotations, Michigan State was able to edge out a decisive victory over Illinois.   
The first rotation ended with Illinois on top after it had a great day on bars. Michigan State still performed above its season average on vault, but it was not enough to combat the great bar work by the Illini, led by Kaitlyn Ewald with a 9.875.  
Michigan State continued its season-long dominance on the balance beam after putting up the third highest score in the Big Ten this season on Friday night. Led by freshman Gabi Stephen and sophomores Giana Kalefe and Baleigh Garcia with their scores of 9.925, the Spartans set the highest beam score in program history with a 49.50. This third rotation ended with Michigan State over Illinois for the first time Sunday night.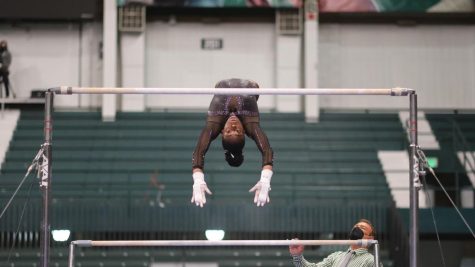 This meet was full of record-setting performances by the Spartans. After the third rotation, Michigan State was up 147.85-147.6 and under pressure to match its excellent beam rotation. After several athletes set career highs on their floor routines, the Spartans' lead grew as they saw another program-high event total be broken. The Spartans scored a combined 49.575 on the floor, pushing them to a victory over Illinois. Despite the meet being close throughout, the final score had Michigan State winning by a large margin. The Illini came in with a 196.450 to the Spartans' 197.425.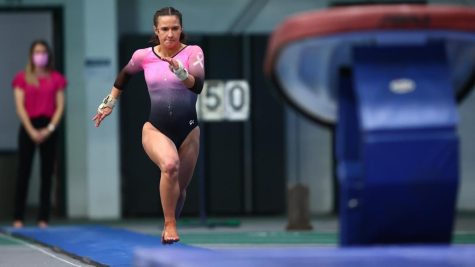 The Spartans hit a very special team score this meet. Michigan State coach Mike Rowe set a goal for his team to hit a team score of 197 this season.  A score this high had not been earned since 2004, when the program-high was set at 197.075. Despite a few close calls, the meet this past Sunday saw this goal come to fruition. Michigan State did not only cross the 197 threshold, but it raised the program record higher than expected. Due to the incredible night the Spartans had on both beam and floor, they were able to score a 197.425.  
Despite both programs setting their season highs, the Spartans took home their second conference victory. They will retake the mat next on Feb. 19 for the special Big Five- Elevate the Mat meet in Toledo, Ohio.