Previewing MSU women's basketball at No. 7 Indiana
EAST LANSING – The Michigan State women's basketball team is headed to Bloomington, Indiana on Saturday to face the No. 7-ranked Hoosiers. The Spartans are coming off a massive win against No. 4 Michigan. 
Guard Nia Clouden scored 20 points while shooting 7-15 on field goals. Clouden shot 3-of-6 from beyond the arc while adding four assists and two defensive rebounds. Additionally, forward Tamara Farquhar had 11 points. Farquhar shot 5-of-7 on field goals while playing 30 minutes. 
The Spartans went 23-of-50 for field goals and 6-of-13 from beyond the arc. The team had a total of 17 assists while grabbing 10 offensive rebounds. The Spartans created a lot of offensive opportunities off of Michigan's 18 turnovers.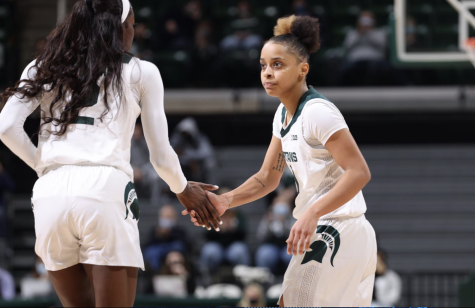 For the Wolverines, Naz Hillmon and Danielle Rauch had impressive offensive games. Hillmon scored 27 points with nine rebounds and one assist. Rauch was the second-leading scorer for the Wolverines with 12 points. She added five assists. 
The Wolverines shot 40.4% from the field, making 23-of-57 shots. Michigan struggled shooting beyond the arc with a 25% three-point percentage. 
Michigan outrebounded the Spartans with a total of 34 rebounds, with 15 being offensive rebounds. The Spartans, on the other hand, had a total of 31 rebounds including 10 that were offensive.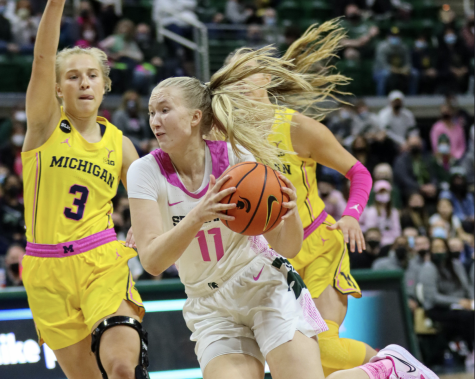 The Hoosiers are the only team in the Big Ten with a better conference record than Michigan as they stand at 9-1. They are coming off a three-game win streak that includes wins against Illinois, Purdue and Minnesota. 
In Indiana's most recent victory against Illinois, guard Ali Patberg scored 26 points for the Hoosiers with two assists and a rebound. Additionally, forward Aleksa Gulbe scored 18 points with seven rebounds and one assist. 
Indiana shot 57.6% from the field, making 34-of-59 shots. They also shot 45.5% from three-point range, while Illinois shot 22.2%. 
The Hoosiers are second in the conference in fewest points allowed per game with 58.9. The matchup will present the Spartans offense with arguably its biggest challenge thus far this season.
Saturday's matchup starts at 3:00 p.m. at Assembly Hall.