TE Parks Gissinger enters the transfer portal
Manit Patel, General Assignment Reporter
February 10, 2022
EAST LANSING, Mich—Michigan State redshirt junior tight end Park Gissinger entered the transfer portal on Thursday afternoon, becoming the 19th Spartan to do so since the start of the 2021 season.
Looking for an opportunity… pic.twitter.com/GfvPp44azR

— Parks (@ParksGissinger) February 11, 2022
Gissinger, a 6-foot-4, 240-pound tight end, enters the transfer portal with two years of eligibility remaining. He played in eight games over the course of his Spartan career, recording one reception for five yards in MSU's 2019 Pinstripe Bowl win and appearing in four games during the 2021 season before missing the second half of the season due to injury.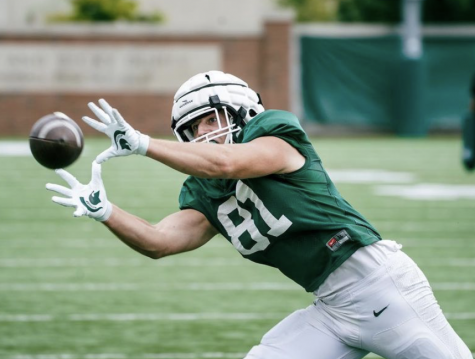 As a recruit, Gissinger was rated as a three-star defensive end by 247Sports. He was ranked as the No. 801 overall player in the class of 2018 and the No. 82 overall prospect in California after playing at Chaminade High School (West Hills, California).
Gissinger amassed 10 offers and originally committed to Michigan State over Boston College, Colordate State, Harvard, Iowa State, Kentucky, San Diego State, Syracuse, Vanderbilt, and Yale.
Gissinger is now the third Spartan tight end to transfer along with Trenton Gillison and Kameron Allen. He was facing an uphill battle for playing time with the return of Maliq Carr and the addition of graduate transfer Daniel Barker, who spent the past four seasons at Illinois. MSU is also bringing in two three-star tight ends in the 2022 recruiting class in Georgia native Jack Nickel and Arizona native Michael Masunas.