Spartans fall four spots in AP poll after loss to Rutgers
Manit Patel, General Assignment Reporter
February 7, 2022
EAST LANSING, Mich — Following a week in which it defeated Maryland 65-63 on the road on Feb. 2, Michigan State fell four spots to No. 17 in this week's edition of the AP poll after falling to Rutgers 84-63 over the weekend.
Michigan State is once again one of five Big Ten conference teams ranked in the Top 25, coming in as the lowest ranked amongst the five. Purdue (No. 3) rose one spot coming off of a two-win week, with its most recent being a 82-76 victory over Michigan on Feb. 5. 
Illinois (No. 13) rose five spots after also winning two games this past week, defeating previously No. 11 Wisconsin 80-67 on Feb. 2 at home, before rounding out the week with a 74-57 road win over Indiana.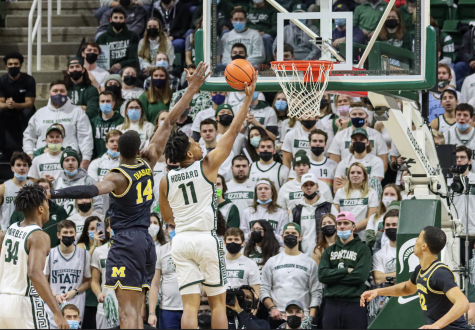 As for the Badgers (No. 14), they fell three spots after the loss to Illinois, before ending the week with a 51-49 win in a slugfest over Penn State that produced an 18-13 halftime score. Ohio State (No. 16) rounds out the Big Ten contingent, staying put after its game against Iowa was cancelled, and picking up a 82-67 win against Maryland on Feb. 6.
Michigan State is currently ranked No. 23 in the NET Rankings, the NCAA's metric used to help determine seeding. The Spartans hold four Quadrant 1 wins and five Quadrant 2 wins while not having a single Quadrant 3 or 4 loss. 
This is MSU's ninth consecutive week ranked in the Top 25 of the AP Poll after beginning the season unranked. The Spartans are scheduled to host two games at the Breslin Center this week. On Tuesday, No. 14 Wisconsin visits East Lansing for a 7 p.m. scheduled tip-off. To conclude the week, Indiana is scheduled to make the trip to the Breslin to play the Spartans on Saturday at 3:30 p.m.