MSU comes in at No. 13 in latest AP poll rankings
Manit Patel, General Assignment Reporter
January 31, 2022
EA​ST LANSING, Mich —Following a week in which it lost to No. 24 Illinois 56-55 on Jan. 25 before knocking off Michigan 83-67 on Jan. 29, Michigan State dropped three spots in the latest AP poll rankings from No. 10 to No. 13. 
The Spartans are one of five Big Ten conference teams that are ranked in the weekly AP Poll. Purdue is currently No. 4 in the country, while Wisconsin jumped the Spartans and is now ranked as No. 11 team in the country after defeating Nebraska and Minnesota by a combined 13 points.
The Spartans come in ranked ahead of fellow conference members Ohio State (No. 16) and Illinois (No. 18). The Illini rose five spots in the poll following wins over Northwestern and MSU by four points combined. Ohio State had an opportunity to move up in the rankings when it played Purdue on the road this past Sunday, instead falling to the Boilermakers 81-78. Indiana and Iowa both received multiple ranked votes.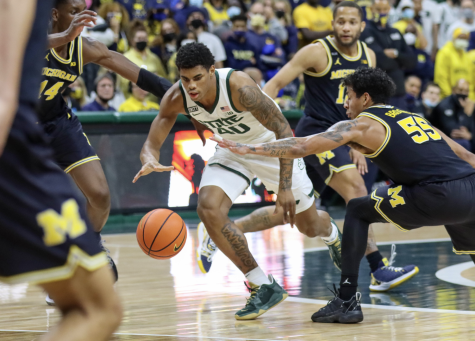 MSU is currently ranked No. 18 in the NCAA's NET rankings, a metric used to help determine seeding for the NCAA tournament. The Spartans currently have three Quadrant 1 wins and six Quadrant 2 wins to go along with only one Quadrant 3 loss (the 64-62 loss to Northwestern at home on Jan. 15).
This is the Spartans eighth consecutive week ranked in the Top 25 of the AP Poll after beginning the season unranked. Michigan State is set to play a two-game slate this week, beginning on Tuesday when it will visit Maryland at the XFINITY Center at 7 p.m. The Spartans will wrap up the week with a trip to Piscataway on Saturday at Jersey Mike's Arena where tipoff is set for 4 p.m.