Max Christie receives Big Ten Freshman of the Week honors
Manit Patel, General Assignment Reporter
January 17, 2022
EAST LANSING, Mich – After averaging 11 points and 5.5 rebounds in Michigan State's two games last week, Spartan freshman guard Max Christie received the Big Ten Freshman Player of the Week Award.
This marks the fifth time Christie has won the award and his third time receiving the award in the past four weeks. 
During Michigan State's 71-69 home win over Minnesota on Jan. 12, Christie led the Spartans with 16 points and chipped in five rebounds and four assists. He finished the night shooting 7-for-12 from the field, including a 2-for-3 showing from the 3-point arc. He showcased his exceptional perimeter defense against Northwestern, recording three blocks and six rebounds despite only shooting 1-for-8 from the floor.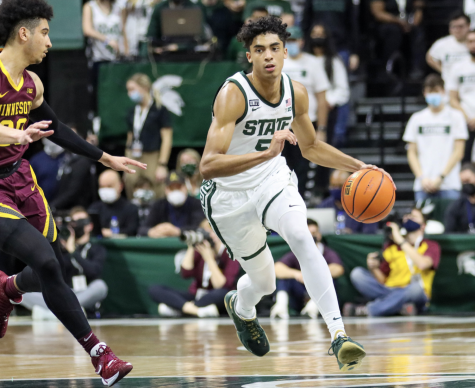 Christie's improved scoring stretch has continued, he raised his season scoring average to double digits with his scoring outputs this past week. He has recorded a steady 12.4 points per game over his last nine contests. In addition, he's scored in double figures in six of his past nine games, and in four of his past five games.
Overall, Christie is averaging 10.4 points per game and 3.8 rebounds, while shooting 39.7% from the floor, and 33.8% from beyond the 3-point line. Christie still remains as the only Spartan to average over 30 minutes of playing time per game this season. He and the No. 14 Spartans return to game action this Friday when they take on No. 8 Wisconsin in Madison. 
Tipoff is set for 9 p.m.