MSU drops four spots to No. 14 in AP poll after Saturday's loss
Manit Patel, General Assignment Reporter
January 17, 2022
EAST LANSING, Mich – After their first loss since Nov. 26th to Northwestern at home, Michigan State moved down four spots to No. 14 in the weekly AP Poll Rankings.
The Spartans are one of four other Big Ten ranked teams, with two other teams receiving votes. Michigan State is now the third-highest ranked Big Ten team, coming behind Purdue (No. 4) and Wisconsin (No. 8). The No. 14 Spartans are three spots ahead of Illinois (No. 17), while Ohio State (No. 19) rounds out the Big Ten representation in the Top 25. Iowa received the most votes of any team not in the top 25 with 56; Indiana received two ranked votes.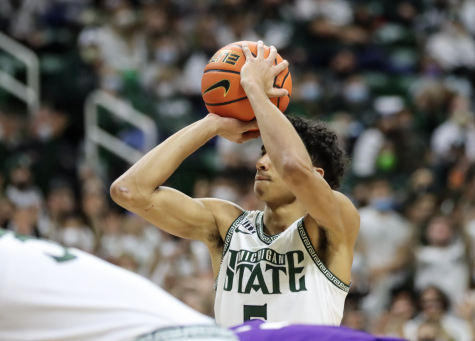 MSU dropped four spots after a 64-62 home loss to Northwestern on Saturday afternoon. Despite being without leading scorer and rebounder Pete Nance, the Spartans only shot 6-of-21 from 3-point range and yielded 17 offensive rebounds to the Wildcats en route to the narrow defeat. With the loss, the Spartans dropped to 14-3 on the season and 5-1 in Big Ten play.
It was also the first loss this season that the Spartans have had to a non-ranked team as well as their first quadrant two loss of the season.
Michigan State also registered a win last Wednesday, knocking off Minnesota 71-69 at home thanks to a last-second Joey Hauser bucket. Freshman guard Max Christie paced the Spartans with 16 points and five rebounds. It was the Spartans' second win over the Golden Gophers this season, following their 75-67 road win on Dec. 8. 
The Spartans are slated to play one game this week when they travel to Madison to take on No. 8 Wisconsin this Friday. MSU hasn't won at Wisconsin since Feb. 12, 2019 in what was a 67-59 win over the No. 20 Badgers.