Michigan State defensive line coach Ron Burton leaving
Manit Patel, General Assignment Reporter
January 16, 2022
EAST LANSING, Mich—In a surprise announcement made earlier today today, Michigan State defensive line coach Ron Burton announced he would be leaving MSU to pursue other opportunities. He is the third assistant coach from the 2021-22 staff that has departed after former running backs coach William Peagler and cornerbacks coach Traveres Tillman.  
— Ron Burton (@CoachRonBurton) January 16, 2022
A 30-year coaching veteran with four seasons of NFL experience, he had just finished his ninth season on the defensive staff in East Lansing. 
Burton played college football as a four-year letterman at North Carolina from 1982-86. During his time in Chapel Hill, the Tar Heels made three bowl games, and he was named a team captain as a senior. During his senior season, Burton registered eight sacks and was named as the team's best defensive lineman.
In those four years, Burton compiled 161 tackles and 15 sacks.
He also played four seasons in the NFL with the Dallas Cowboys, Phoenix Cardinals and Los Angeles Raiders (then Oakland) while moving to linebacker before ending his professional playing career in 1990. In 1988, Burton started in 15 games for Dallas and recorded two sacks. Burton appeared in 49 career games during his time in the NFL.
Burton began his collegiate coaching career as a graduate assistant for two years from 1992 to 1993 at UNC. He earned his first full time coaching position as the defensive backs coach for Morehead Statein 1994 before coaching linebackers at Eastern Michigan from 1995-96.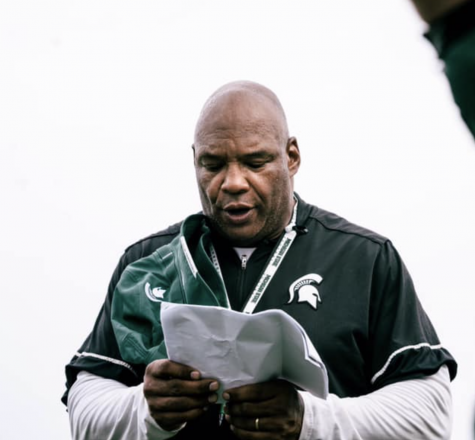 Following his two year stay in Ypsilanti, Burton got his first Power Five coaching job when Indiana hired him as its defensive line coach in 1997. He remained in that role until 2001.
Burton spent one year (2002) coaching the defensive line at Grand Valley State where they won the Division II national championship before being hired as Air Force's defensive line coach. He would remain in that role until 2012 when MSU hired him in the same capacity.
Burton was hired by Michigan State and former head coach Mark Dantonio in 2013 and helped to aid in the development of All-Americans Shilique Calhoun and Malik McDowell, as well as defensive tackle Joel Heath. He then moved to defensive tackles coach from 2017-19 where he oversaw current NFL players Raequan Williams and Naquan Jones before being brought back as the defensive line coach for new head coach Mel Tucker.
Until Burton's replacement can be found, newly-hired defensive ends coach Brandon Jordan will be tasked with helping to lead the defensive line. Jordan's hiring was made official on Jan. 15.