2022 football schedule released for MSU, will open season at home against Western Michigan on Sept. 3
Manit Patel, General Assignment Reporter
January 12, 2022
EAST LANSING, Mich—On Wednesday afternoon, the 2022 football schedule for MSU was revealed.
The Spartans, fresh off a No. 9 final ranking in the AP poll and a No. 8 ranking in the Coaches' poll, will play their usual three out-of-conference games along with nine Big Ten games. Spartan Stadium will host seven of the team's 12 games this season.
Michigan State and head coach Mel Tucker are set to open up the season hosting in-state Western Michigan and Akron for the Spartans' first and second games of 2022 on Sept. 3 and 10.
To finish the non-conference schedule, the Spartans will travel to Seattle to play Washington on Sept. 17 in what will be MSU's first matchup with a Pac-12 opponent since it traveled to Arizona State in 2019.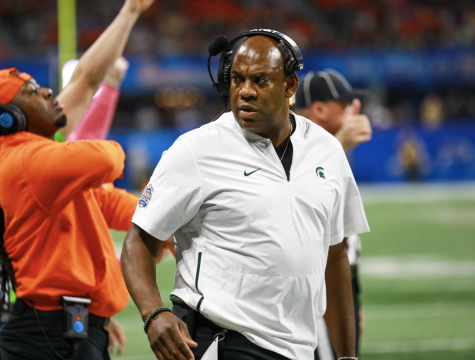 Michigan State will then return home to begin Big Ten play, hosting Minnesota on Sept. 24th for its fourth game of the season. After the conference home opener, the Spartans will travel to Maryland on Oct. 1.
Following matchups against Minnesota and Maryland, the Spartans will enter their toughest stretch of the season on paper as they are set to play Ohio State, Wisconsin, and Michigan in three consecutive games. Ohio State will come to East Lansing to begin the gauntlet on Oct. 8th before Wisconsin follows on Oct. 15. It will be the two teams first meeting since 2019; a game in which the Badgers shut out the Spartans 38-0 in Madison.
After a bye week on Oct. 22, the Spartans will travel to Ann Arbor to take on Michigan on Oct. 29 before traveling to Illinois on Nov. 5.
The end of the regular season will conclude with two home games against Rutgers on Nov. 12 and Indiana on Nov. 19; the Spartans will end the regular season on the road in Happy Valley to take on Penn State.
Kickoff times have yet to be determined for each of the 12 scheduled games.