MSU stays at No. 10 in AP poll rankings
Manit Patel, General Assignment Reporter
January 10, 2022
EAST LANSING, Mich- For a third straight week, Michigan State comes in at No. 10 in the weekly AP poll rankings.
The Spartans are amongst four other Big Ten teams in the AP Top 25, with two other Big Ten teams receiving votes. The Spartans come in three spots below Purdue, who fell to No. 7 from No. 3 after losing to Wisconsin 74-69 at home on Jan. 3. Following the impressive road win, Wisconsin moved up to No. 13 in the rankings from No. 23. The Badgers also registered a 70-69 road win over Maryland on Sunday afternoon.
Illinois re-entered the poll at No. 25 after flirting with being ranked for multiple weeks in a row, they began the season ranked No. 11. The Fighting Illini are coming off a dominating 76-53 road win over Minnesota on Jan. 4 and a 12-point home win over Maryland on Jan. 6.
Indiana and Iowa also received votes with the Hoosiers rising fast after double digits wins over No. 16 Ohio State and Minnesota this past week.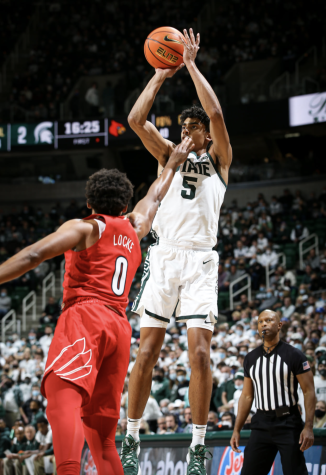 Michigan State remained at No. 10 after playing one conference game, against Nebraska, on Jan. 5. Behind a career high 21-point outing from freshman guard Max Christie, the Spartans dispatched of the Cornhuskers 79-67 on Jan. 5. Senior forward Gabe Brown chipped in with 14 points; Malik Hall registered 12 points and six rebounds.
MSU was also scheduled to play Michigan in Ann Arbor on Saturday; that game was postponed due to the Wolverines not having seven healthy scholarship players. The game, up to this point, has not been rescheduled
Following the postponement of the Michigan game, Michigan State is scheduled to face off against Minnesota and Northwestern at home this week. The Spartans will battle the Golden Gophers on Wednesday at 7 p.m. and host the Wildcats on Saturday afternoon at noon.
MSU has already defeated both teams on the road this year, defeating Minnesota 75–67 on Dec. 8 and Northwestern 73-67 on Jan. 2.