MSU has game against Northwestern postponed, Winston transfers to Mississippi State
EAST LANSING, Mich – Following a nail-biting 72-69 win over Nebraska on Thursday, the Michigan State Spartans upcoming game on Monday, Jan. 3 at Northwestern has officially been postponed due to COVID-19 concerns with the Wildcats' program.
Amended Big Ten Conference Forfeiture Guidelines state that conference officials will work with both schools to find a date to reschedule. If a rescheduled date cannot be reached and agreed upon between both programs, the game will go as a "no-contest" for both teams and no forfeiture will take place under the current guidelines.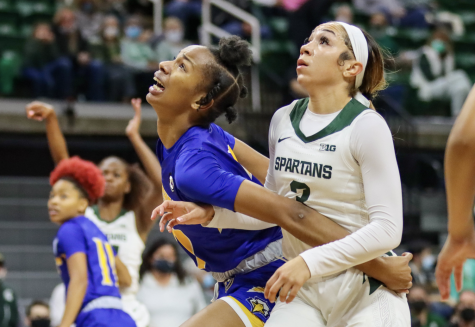 This is the first time this season MSU or one of their opponents has had a game postponed this season due to COVID-19 concerns. No other games as of now have been postponed as the concerns currently only lie in the Wildcats' program.
Michigan State's next game will be on Sunday, Jan. 9 in the Breslin Center, where the Spartans will take on the Purdue Boilermakers at 2 p.m. With the win over Nebraska on Dec. 30, the Spartans are 8-6 on the season and 2-1 in Big Ten play. 
In other news, junior guard Alyza Winston announced on Instagram and Twitter that she has decided to transfer to Mississippi State. Winston started in 10 games this season for MSU, averaged 26.7 minutes a game and 12.2 points a game. She initially entered the portal on Dec. 9.
#HailState 🖤🐶🐶 pic.twitter.com/061JhXRp65

— Alyza Winston (@bigtime_lyz) January 2, 2022
Last season, Winston averaged 11.1 points a game in 27 minutes of action, on average. She also started in 16 games, appeared in 23 and shot 42.3% from the floor.