Clouden receives Big Ten Player of the Week honors
Manit Patel, General Assignment Reporter
December 27, 2021
EAST LANSING, Mich—Following a record-setting 50-point outing against Florida Gulf Coast on Dec. 20, Michigan State Women's Basketball guard Nia Clouden was named as the Big Ten Player of the Week. 
She averaged 36 points, four rebounds, and 1.5 steals over two games last week in the Spartans' two losses. Clouden opened up the week with a 50-point outing on Dec. 20th against Florida Gulf Coast in a double-overtime 85-84 loss. 
Her 50 points were the most by any Division I women's player this season and the most of any women's player in MSU history. It was also tied for the highest single-game point total in school history, men's or women's, matching guard Terry Furlow who scored 50 points against Iowa on Jan 5. 1976.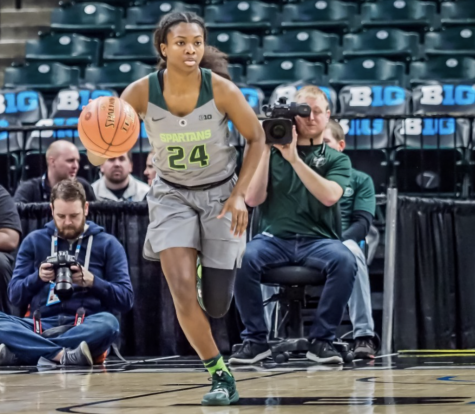 Following the loss to the Eagles, the Spartans faced off against West Virginia on Tuesday, Dec. 21. Clouden followed up her historical performance with yet another exceptional showing, scoring 22 points and adding two rebounds and two steals in MSU's 74-54 loss. 
Through 13 games this season, Clouden is averaging 21.8 points per game, good for seventh in Division I and second in the Big Ten. She is also averaging 4.3 assists, 4.3 rebounds and 1.3 steals per game to go along with the scoring average.
This is Clouden's second Big Ten Player of the Week and her first of the season. She's the first Spartan to receive the award since herself for the week of Nov. 18th, 2019. 
Clouden is also the third Spartan to receive a weekly conference award this season; freshmen guard Deedee Hagemann and forward Matilda Ekh both received freshman of the week honors for the week of Nov. 15 and Dec. 13.