MSU up to No. 11 in latest AP poll
Manit Patel, General Assignment Reporter
December 20, 2021
EAST LANSING, Mich—Following a week in which no ranked team ahead of it lost, the Michigan State Spartans moved up to No. 11 in the latest AP poll rankings.
The Spartans are one of four ranked Big Ten teams, trailing Purdue at No. 3 and coming ahead of Ohio State at No. 14 and Wisconsin at No. 24. Four other conference teams, Illinois, Michigan, Iowa and Minnesota, received at least three ranked votes. 
Following gritty wins over Minnesota on the road and Penn State at home to open up Big Ten conference play, the Spartans didn't play a game last week due to finals. The Spartans are currently 9-2 on the season with two road wins and three quadrant one wins. As such, MSU is currently No. 13 in the NCAA's NET rankings. This ranking system, measuring quality of opponent, venue, and several other factors, is the primary tool used by the NCAA seeding committee for March Madness.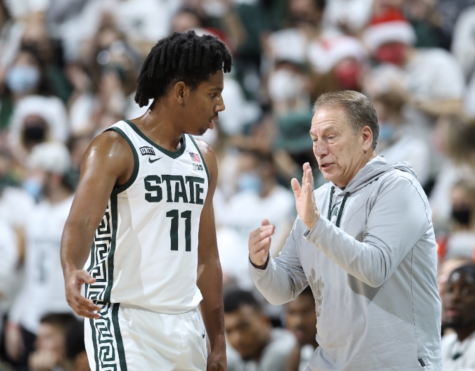 MSU will play its first game in 10 days tomorrow at Little Caesars Arena against Oakland before taking on High Point at home on Dec. 29. Last season, MSU knocked off the Golden Grizzlies 109-91 at home on Dec. 13, 2020 thanks to 20 Gabe Brown points.
The two teams, who have played every year since 2007, have seen the same outcome in every game. Despite taking MSU to overtime during the 2015-16 season, head coach Greg Kampe has never beaten the Spartans, having lost all 13 games.
The Golden Grizzlies come into tomorrow's game with a 7-3 record, having lost to West Virginia, No. 14 Alabama and Bowling Green on Dec. 7 in their last game played.