MSU springboards to No. 12 in AP Poll
EAST LANSING, Mich — After a 2-0 start in Big Ten play, Michigan State Basketball is continuing to make its upward ascent in the AP poll, jumping to No. 12 in the country, just behind Villanova, USC and Iowa State.
Last week, the Spartans were ranked No. 19. They are currently 9-2 on the season and in the midst of a four-game winning streak dating back to Dec. 1. 
Purdue and Ohio State are the only other ranked Big Ten teams this week; the Boilermakers dropped to No. 3 after suffering a heartbreaking 70-68 loss to Rutgers on Dec. 9. The Buckeyes are currently slotted in at No. 15 after handily defeating Towson and No. 22 Wisconsin.
The Spartans are coming off of two convincing wins at the start of Big Ten play, defeating the Minnesota Golden Gophers 75-67 on the road and the Penn State Nittany Lions 80-64 at the Breslin Center on Saturday afternoon.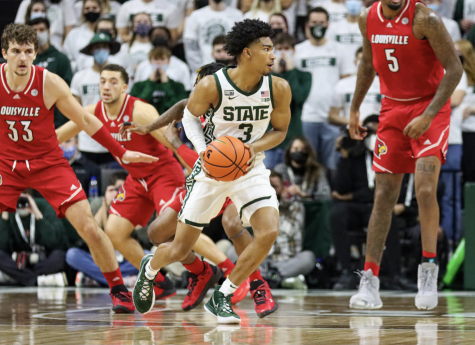 Point guard Tyson Walker and small forward Gabe Brown continued their impressive recent string of performances on Saturday, with Walker recording 10 points and nine assists, and Brown going for 15 points and five rebounds on 5-for-12 shooting.
Center Marcus Bingham Jr. added 12 points with 13 rebounds; junior forward Malik Hall added nine points and six rebounds off the bench in 23 minutes of action. 
On Dec. 8, MSU went on the road in a hostile environment, taking on a resurgent Minnesota team, who came in at 7-0 overall. The Spartans were able to take care of business, once again getting solid contributions from Walker, Brown and Hall. Walker finished with 15 points and five rebounds on 5-for-7 shooting in that contest; Brown and Hall also chipped in with 15 points apiece. 
The Golden Gophers rebounded well from Wednesday's loss with a 75-65 win over Michigan on Dec. 11. 
MSU will have an extended break due to finals week before the team hits the road on Dec. 21 to battle the Oakland Golden Grizzlies (7-3) at Little Caesars Arena in Detroit. Tipoff is set for 7:30 p.m.