MSU has two key reserves enter the transfer portal
EAST LANSING, Mich— Two more Michigan State Spartans have entered the transfer portal.
On Friday afternoon, reserve offensive guard James Ohonba and tight end Trenton Gillison announced their intentions to enter the transfer portal. They are the sixth and seventh players to enter the portal since the conclusion of the 2021 season for head coach Mel Tucker.
Ohonba has been a mainstay on special teams over the past two seasons and appeared in 17 games during his time in East Lansing, including 10 in 2021. A 2020 All-Big Ten Academic selection, he appeared in seven games in 2020, mostly on MSU's field goal and PAT unit.
After committing to MSU on Sept. 29, 2017 as a high three-star recruit out of Stockbridge, Georgia, Ohonba was slotted behind guards Matt Carrick, Blake Bueter, Luke Campbell and Kevin Jarvis and struggled to find a consistent role on offense.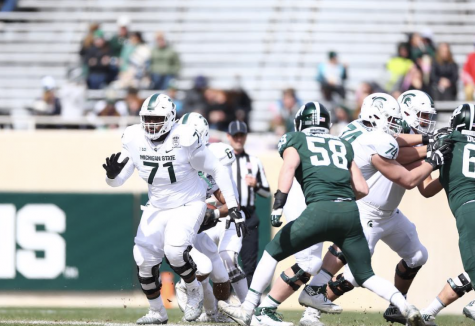 247Sports rated Ohonba as the No. 51 recruit in Georgia within the 2018 class and the No. 484 overall prospect in the country. He initially chose MSU over a multitude of other Power Five schools including Alabama, Clemson, Michigan, Georgia, Ohio State, Notre Dame, USC, Tennessee and LSU.
Gillison, a 2018 four-star recruit, appeared in 24 games over the past four seasons and notched 18 catches for 201 yards. His best season came in 2019, where he had 12 catches for 147 yards to go along with three starts.
In the 27-21 2019 Pinstripe Bowl victory over Wake Forest, Gillison had a career high four catches for 88 yards. He also appeared in six games in 2021, notching one catch for five yards against Youngstown State on Sept. 11.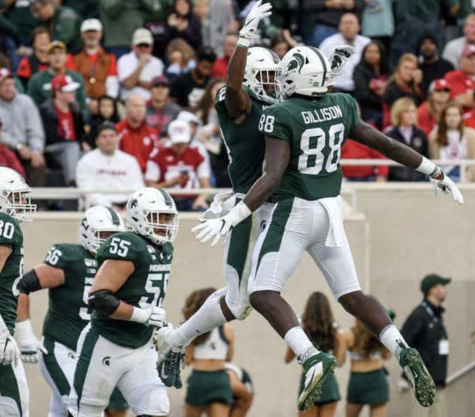 Like Ohonba, Gilllison was an extremely highly-rated recruit within the 2018 class. Hailing from Pickerington, Ohio, he was high school teammates with safety Xavier Henderson and both players were four stars. 247Sports rated Gillison as the No. 7 overall recruit in Ohio and the No. 12 tight end prospect.
Gillison had an extensive offer sheet out of high school that included the likes of Michigan, Kentucky, Louisville, Iowa State, Indiana, Cincinnati, Wisconsin, Ole Miss and Tennessee. 
With the return of Maliq Carr, as well as the arrival of three-star Arizona native Michael Masunas and Georgie native, and former Notre Dame commit Jack Nickel, in 2022, Gillison was going to be hard pressed for consistent playing time next season. Fellow starting tight end Tyler Hunt also has another year of eligibility if he so chooses.
Since Monday, the Spartans have seen wide receiver Ricky White, cornerback Michael Gravely and safety C.J. Hayes entered the transfer portal. The previous week, safeties Michael Dowell and Emmanuel Flowers entered the portal.