Multiple Spartans honored with conference offensive awards
EAST LANSING, Mich—On Wednesday, Michigan State junior running back and Heisman Trophy candidate Kenneth Walker III was named the Big Ten Running Back of the Year.
Walker is the first Spartan to win the award since its inception back in 2011. He was also named to the All-Big Ten First Team, the first one to do it since Le'Veon Bell back in 2012.
Walker has had a steller season with MSU, leading the Big Ten all season with 1,636 rushing yards, ranking him second in the FBS. He leads the FBS in rushing yards after contact (1,154) 20+ yard carries (21) and missed forced tackles (89).
His 1,636 rushing yards is the best mark in Power Five. He is currently only behind Central Michigan RB Lew Nichols, who ran for 1,710 yards during the regular season, in Division I.
The junior running back is tied for second in the nation in 10+ yard carries (46) and tied for fourth in total touchdowns (19). Walker is sixth in yards from scrimmage and eighth in all purpose yards with both being at 143.8 yards per game. He finishes off 14th in the nation in yards per carry (6.2).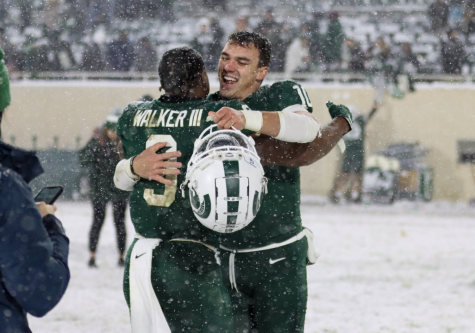 Walker isn't the only Spartan accumulating accolades however. Redshirt junior wide receiver Jayden Reed earned All-Big Ten third team honors from both the coaches and media. 
Reed currently sits fourth in the conference in receiving yards, having 946 on the season. He has a chance to hit 1,000 yards in the Spartans' upcoming bowl game. He would be the first Spartan to achieve this since Aaron Burbridge back in 2015. 
Reed is third in the Big Ten in yards per catch (17.8) and ninth in total receptions (53, 4.4 per game). He's also a Paul Hornung Award finalist, and was named second-team All-Big Ten as a return specialist.
Some other Spartans were able to earn name recognition as well. Guys that were able to receive honorable mentions from the coaches and media were: Matt Allen (GS, Sr.), Connor Heyward (TE, Sr.), Jarrett Horst (OT, Sr.), Kevin Jarvis (OG/OT, RS-Sr.), and Payton Thorne (QB, RS-So.).
Among this list, Allen is the only one out of eligibility. Heyward has since confirmed that he will be entering the NFL Draft at the conclusion of the season.
Thorne is tied for second in the Big Ten with 24 touchdown passes, third in passing efficiency (150.3 rating) and fifth in total offense (255.5 yards per game). He also ran for four touchdowns this season, 
His QBR of 78 is the 15th-best mark in the country, according to ESPN.
Spartans that received honorable mentions from just the media were AJ Arcuri (OT, GS.), Blake Bueter (OG, RS-Sr.), J.D. Duplain (OG, Jr.), and Jalen Nailor (WR, RS-Jr.).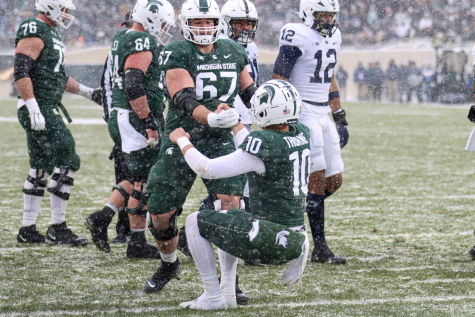 Bueter started the last four games of the season after guard Matt Carrick suffered a season-ending injury and left tackle Jarrett Horst did not dress after the Michigan game on Oct. 30.  He, along with Duplain, have helped to stabilize an MSU interior that saw a lot of moving pieces during the early portion of the season. Both players have at least one year of eligibility remaining.
Despite missing the final four games due to a hand injury, Nailor still finished 14th in the Big Ten with 587 receiving yards and six touchdowns. Three of those scores (all over 60 yards) came in the Spartans' 31-13 win over Rutgers on Oct. 9.